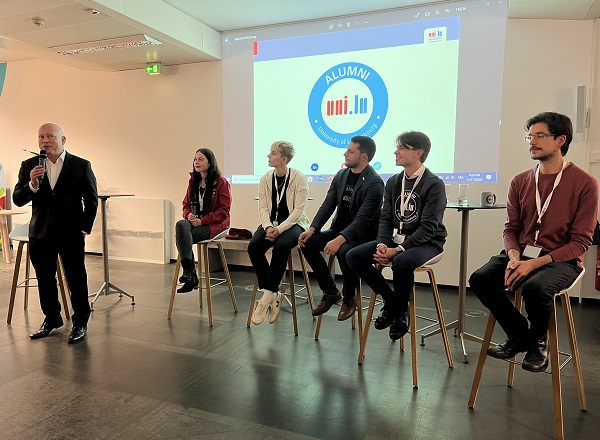 (L-R) Stéphane Pallage (Rector of the University of Luxembourg) with panelists Jazmin Campbell, Mara Kroth, Antony Martini, Filip Westerlund and Gregor Waltersdorfer; Credit: © University of Luxembourg / Aswin Lutchanah
About 160 people, mostly recent graduates of the University of Luxembourg, attended the launch event of the University of Luxembourg Alumni Network at the House of Startups in Luxembourg-Bonnevoie on Thursday evening.
Also present were representatives from GradPack partner organisations, i.e. partners that offer members of the Alumni Network various discounts and special offers.
The evening began with Andy Adams, Alumni Relations Senior Specialist, sharing his own story (what brought him to Luxembourg and why he stayed) and that of the Alumni Network in an interview led by Mara Kroth (one of the panelists later in the evening). Speaking from his own experience about networking - the main topic of this event - Andy explained that this initially felt like a job requirement for him but he soon discovered it was a good way to meet many interesting people.
He began building up the University of Luxembourg Alumni Network from scratch in 2020 and it officially launched at the end of last year. He added that it was important that the network offered alumni something of value, i.e. membership of business networks. In terms of what members of the network can expect in future, the Alumni platform is set to launch at the start of next year and Alumni email addresses are already being rolled out. Andy added that one of his goals was to leverage the Alumni Network's presence globally (i.e. for members who are no longer in Luxembourg) and more regular events are in the works for next year.
Thursday's event continued with the launch of the official Alumni Network online store and a big reveal of the new merchandising collection - with some items modelled by the alumni panelists.
During the panel discussion "Networking your career", Andy asked the following panelists about their respective decisions to study at the University of Luxembourg, the role played by networking in their professional careers and what advice they would give their younger selves and/or other recent graduates: Jazmin Campbell (Master in European Contemporary History, graduated 2019), CEO of G-Media Sárl; Mara Kroth (Bachelor in Psychology, 2019; Master in Psychology, 2022), co-founder of GoldenMe; Antony Martini (Bachelor in Management - Banks, 2015; Master in Entrepreneurship and Innovation, 2017), Senior Programmes Manager at the Luxembourg House of Financial Technology (LHoFT); Filip Westerlund (Master in Psychology, 2021), founder and CEO of OURCHOICE.ECO; Gregor Waltersdorfer (PhD in Engineering Sciences, 2017), founder of Gregor Waltersdorfer Solutions.
The panelists agreed that networking was and continued to be an important part of their respective careers and advised new graduates in particular to decide what they want to achieve from networking, not be put off by the name "networking" and any negative connotation this may have for them, and to just get out there and make meaningful connections. Another point made was that joining specific business networking organisations in Luxembourg was useful (depending on one's networking goal) and that it is a process of "give and take", even if that only means an exchange of information between two people.
As the panel discussion came to a close, special guest Stéphane Pallage, outgoing Rector of the University of Luxembourg, delivered a short speech in which he praised the achievements of the University of Luxembourg, which is still a young institution (just nineteen years old) but which has already performed well in various rankings. He encouraged everyone to make the most of being part of the Alumni Network and expressed his hope that alumni of the University of Luxembourg would be tattooed "Uni.lu" for life.
This was followed by a Kahoot quiz about the university for attendees as well as networking over finger food and drinks.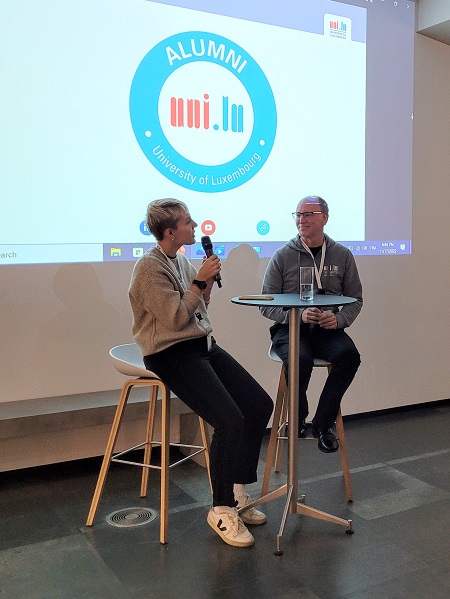 (L-R) Mara Kroth and Andy Adams. (Credit: Chronicle.lu)