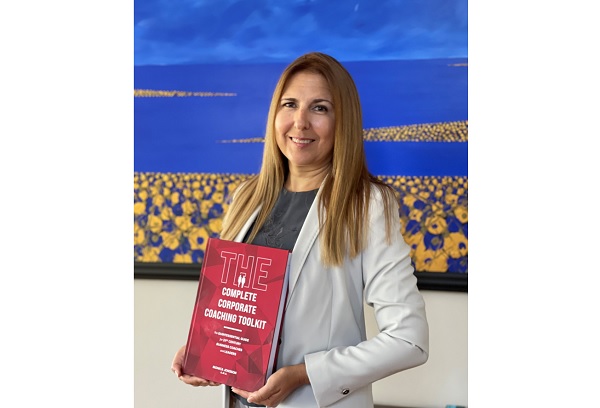 Monica Jonsson pictured with a copy of her book, The Complete Corporate Coaching Toolkit: The Quintessential Guide for 21st Century Business Coaches and Leaders; Credit: Monica Jonsson
Chronicle.lu recently had the opportunity to sit down with Luxembourg-based corporate coach and entrepreneur Monica Jonsson ahead of the launch of her first book: The Complete Corporate Coaching Toolkit: The Quintessential Guide for 21st Century Business Coaches and Leaders.
Originally from Sweden, Monica Jonsson boasts a solid corporate background. She worked for several years in different roles within the telecommunications industry in Sweden and Hong Kong before moving to Luxembourg 25 years ago. She quickly climbed the ranks within her corporate career before getting to a certain point where she felt a lack of purpose and the need to try something else.
Pioneering corporate coaching in Luxembourg
"I stumbled across coaching by accident", she told Chronicle.lu, explaining how she had found a coaching brochure on a trip to London and soon discovered it was her passion. Monica reflected on how she would have appreciated the opportunity to have been coached in her previous senior positions in the corporate world. A gap in the Luxembourg market prompted her to set up her own coaching company in the Grand Duchy. She obtained her coaching certification and accreditation in the United Kingdom (UK) and, in 2003, CoachDynamix S.A. was born. "There was scepticism" in the beginning, she noted, as the concept was rather unknown in Luxembourg, but she managed to quickly get clients and to build up a successful coaching company.
"I went in with the vision of doing my part in making the corporate world a kinder and more inclusive place", Monica explained, adding that her coaching focuses on helping senior executives to improve their soft skills and thus become "more effective and performing leaders".
Self-publishing
When asked about the inspiration for her first book and if she foresaw any future editions or other publications, Monica explained that when she started out as coach, she quickly realised that a practical toolkit for the most popular soft skills like leadership, effective communication, stakeholder management, etc. would be a useful complement to the coaching conversation. Yet when searching for this type of toolkit, she never found one that really met her expectations. So, in the end, she decided to create one herself and, a few years ago, to turn that toolkit into a book in order to make it more broadly available.
The target audience is business leaders on the one hand and fellow corporate coaches on the other. However, Monica noted that since change has become "the new constant" and things continuously evolve in the business world, she is "always sharpening and developing these tools to be relevant". As such, an updated version could be released in another two to three years' time.
She noted that the process of publishing one's own book was long. "You have to be patient", she said, adding that there were several phases in the process, from writing and editing to the layout and design phase. Nevertheless, the process was "worth it" for Monica, who expected it would be easier a second time. She also explained that she had decided to go down the self-publishing route in order to "retain creative control". She continued: "I had a vision of how I wanted the book to be so I did not want to compromise or negotiate".
21st century leadership skills
Elaborating on successful 21st century leadership, Monica noted that it was important for business leaders to understand what employees are looking for from the companies in which they work, adding that today's employees want to work for companies which are human oriented, inclusive and offer a sense of belonging, a meaningful purpose that resonates with them, as well as the flexibility to create a good work-life balance. She added that "leaders need to inspire followers today. The days of command and control are over". From a coach perspective, she recommended fellow (aspiring) corporate coaches to get their credentials first and to develop a solid understanding of the corporate environment. "You need to understand the challenges and trends that executives are grappling with to ask the right questions", she noted.
Concerning the decision to divide her book into sub-categories dedicated to seven specific skills, Monica explained that she had selected the seven most popular topics in her field, namely: leadership, effective communication, emotional intelligence, stakeholder management, influencing and negotiation, personal efficiency and effectiveness and life balance. The book dedicates an especially weighty section to leadership, thus reflecting her strong conviction that "leadership is everything; the quality leadership cascades through an organisation".
Diversity in the workplace
In response to a question about the importance of diversity and inclusion, the role of which is highlighted throughout The Complete Corporate Coaching Toolkit, Monica noted that the world has become "far more complex" than ever before, particularly in terms of globalisation and interconnectedness. Similarly, the corporate world has become more complex. In order to manage such a complex world, diversity, in the broad sense of the word, is key. "But ticking the diversity box is not enough", she argued. "Companies need to cultivate [a workplace] where everyone feels included and has a sense of belonging". She added that inclusion leads to better decisions.
The impact of COVID-19 on the corporate world
On the topic of the COVID-19 pandemic and how this has impacted the corporate world and how leaders can respond to such changes, Monica recalled that "employees have wanted more flexibility for a long time […] to create more balance in their lives". However, "most companies have consistently been resisting this request for flexibility". Whilst pre-pandemic research had already indicated that employees could be trusted to work away from the office, the COVID-19-related lockdowns proved this on a global scale, she noted, adding that many employees worldwide wish to keep this flexibility. "The future really needs to be hybrid", stated Monica. "Employers wanting to force employees back to the way things were is not the recipe for success".
She added that the recent "unprecedented global phenomenon of the great resignation" was a result of "employees feel[ing] that company cultures need updating, modernising". "Hybrid models based on win-win are one really important component of that", she elaborated.
The official book launch of The Complete Corporate Coaching Toolkit: The Quintessential Guide for 21st Century Business Coaches and Leaders took place at Bourglinster Castle on Tuesday 5 July 2022. Around 150 people attended this event, which Monica described as an occasion to informally celebrate the book and spread awareness. Book sales have got off to a good start, already selling via Amazon platforms to customers in Europe, the UK, the United States (US), Australia and Asia. The book is available (in English) in hardcover, paperback and Kindle versions on the main Amazon platforms, including Amazon Germany: https://www.amazon.de/-/en/Monica-Jonsson/dp/B09RP2NBDT/ref=sr_1_1?crid=120HL06F8T4F9&keywords=monica+jonsson&qid=1656751318&sprefix=monica+jonsson%2Caps%2C90&sr=8-1