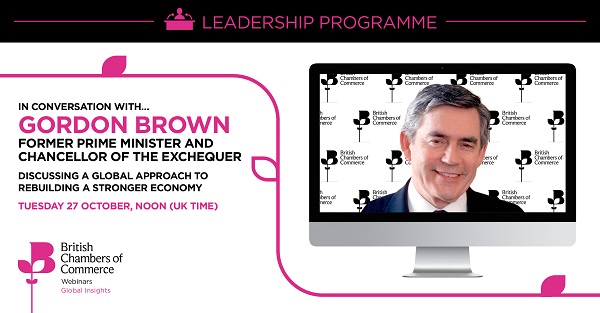 Credit: BCC
The British Chamber of Commerce (BCC) for Luxembourg has announced a live online event, entitled "Discussing a Global Approach to Rebuilding a Stronger Economy", taking place on Tuesday 27 October 2020 from 13:00 to 14:00 (12:00 to 13:00, UK time).
During this virtual debate, former British Prime Minister, Chancellor of the Exchequer and Leader of the Labour Party, Gordon Brown, and Dr Adam Marshall, Director General of the British Chambers of Commerce, will address one of the biggest economic crises of our time (a global pandemic that has impacted the lives of all peoples, countries and economies across the world) and the importance of global cooperation to find solutions. They will explore lessons learnt from past recessions, in particular the differences and similarities with the last major economic crash of 2008.
The former Prime Minister and Dr Marshall will also consider those big universal challenges: a new way to trade as we move into new future international trade relationships; future tech-driven industries and a need for relevant skills; climate change; diverse representative leaders; and the UK's continued competitiveness and its role as a global leader in these and other areas.
There will also be an opportunity to put questions to Gordon Brown. The event is open to everyone.