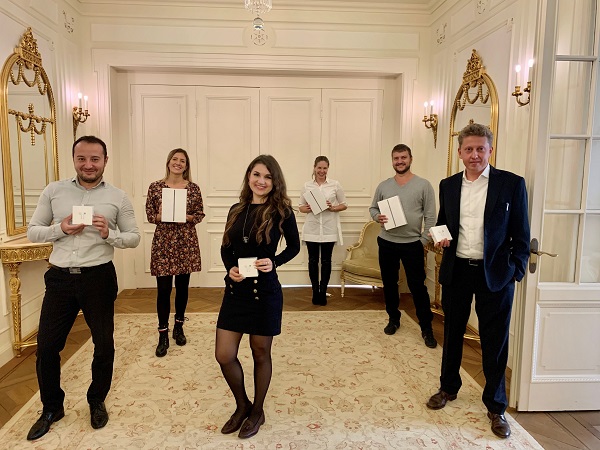 Group photo; Credit: EWUB
Luxembourg-based East-West United Bank (EWUB) recently organised a virtual team building activity for its employees.
With the number of COVID-19 cases on the rise and uncertainty remaining around public gatherings, team building activities represent a substantial challenge for companies and service providers. EWUB shared its example in organising a non-standard virtual team building activity.
Almost 100 employees joined an online session on the Zoom platform to become detectives for a few hours and investigate in groups the theft of the famous Mona Lisa painting from the Louvre in Paris. Various clues were presented along with witnesses of the crime scene. Real actors who hosted the online session enhanced the experience.
This collaborative team building finished with a quiz round featuring questions about the cultural aspects and the history of the bank. Music and digital prizes added a special touch to the activity.
Romain Gossent, Chief Human Resources Officer, commented: "We were searching for a way to be reunited. With part of our employees working remotely through rotation, we no longer have a chance to see all our colleagues and we lose the social link. With this online team building, it was like 'inviting' friends to your home. I had a very warm feeling after this type of activity and I recommend to all companies to try this experience".
Hanna Lantimaki, winner of a brand new iPad, added: "I really enjoyed the team building and it is fair to say that the online set-up will make it an easy one to remember. While our team did not figure out the correct suspect, I found the detective game really engaging and fun. It was also a perfect way to get into the competitive spirit. With the quiz I definitely struggled to find the balance between speed and getting the answers right; I really did not expect to have nailed it. I was over the moon when I realised I had won".
Valeriya Pichurina, marketing team member, concluded: "This type of online activities are not an easy balance of technical expertise and good hosting skills. I would like to note that Marcom section was very flexible this year, adapted fast to the situation with COVID-19, and proposed a new, engaging experience without losing the quality. I am happy to see this level of adaption in Luxembourg".
EWUB ordered special 3D figurines recreating the exact face of each team member as a physical memento of the event.