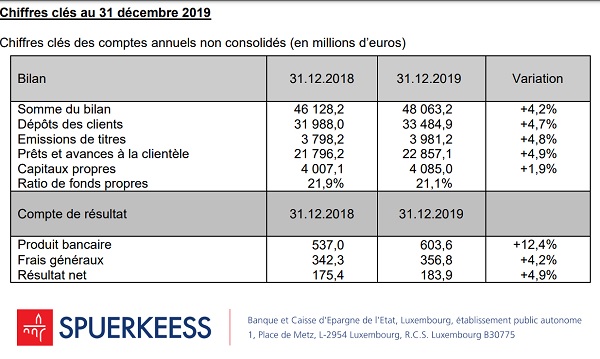 Credit: Spuerkeess
Banque et Caisse d'Epargne de l'Etat (BCEE), better known as Spuerkeess, has published its financial results for the year 2019; the Luxembourg bank's net banking income reached €603.6 million.
As of 31 December 2019, Spuerkeess's banking income rose by €66.6 million or 12.4% to €603.6 million compared to that of the 2018 financial year. The bank thus posted an increase in the result on interest, dividends and commissions of around 7.3% compared to the 2018 financial year, reaching €553.8 million. This increase is more particularly reflected in an increase in the interest margin of 5.9% and an increase in commissions of around 10.4% compared to the 2018 financial year.
In addition, total general expenses rose by 4.2%, which was due to the increase in personnel costs resulting from the indexation of salaries and other elements of adjustment to the legal treatment regime for Spuerkeess employees, as well as the increase in value adjustments on tangible and intangible fixed assets. The latter were brought about in particular by major investments by the bank both in the IT field, including the device of digital tools available to customers, and in the optimisation of the network of the bank's branches.
Shareholders' equity increased from €4.007 billion at the end of 2018 to €4.085 billion at the end of 2019, representing an increase of 1.9%. The equity ratio as of 31 December 2019 was 21.1%, compared to 21.9% the previous year. This reflects the high level of solvency of Spuerkeess.
Profits for 2019 led to Spuerkeess' decision to pay a dividend of €40 million to the State owner, an amount identical to the previous year. In application of the European Central Bank's (ECB) recommendations of 27 March 2020 regarding the distribution of dividends in the context of the COVID-19 (coronavirus) pandemic, the effective payment of the dividend will only be made following a conclusive assessment of the situation once the uncertainties linked to the crisis are gone. This assessment will take place after 1 October 2020.
The surplus profit will be recorded in the Spuerkeess' reserves.