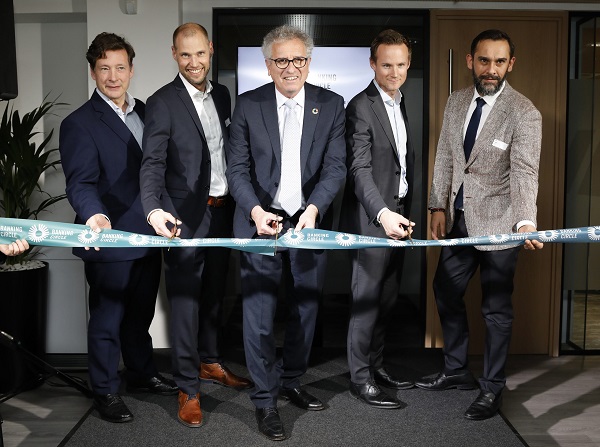 Luxembourg HQ inauguration (L-R): Nicolas Mackel (CEO, LFF); Laust Bertelsen (CEO, Banking Circle); Finance Minister Pierre Gramegna; Anders la Cour (CEO, Banking Circle); Nasir Zubairi (CEO, LhoFT); Credit: Banking Circle
After recently obtaining its banking licence from the Commission de Surveillance du Secteur Financier (CSSF), the Danish fintech Banking Circle has opened its new headquarters in Luxembourg.
Specialising in international payments, the Copenhagen-based Banking Circle made the decision to move to Luxembourg after experiencing the limitations related to being a European financial player based outside the eurozone while also wishing to offer its services to the EU.
Launched in 2015 by Saxo Bank, the startup developed a digital platform for real-time money transfers on behalf of electronic payment players. Its activities include initiating the relationship with the purchaser's bank (consumer and merchant) and the beneficiary of the funds as well as the monitoring of settlement and clearing operations.
The fintech also offers account management, loan management, compliance and risk hedging services. Anders la Cour, CEO and co-founder of Banking Circle, explained: "We believe in financial inclusion. We are therefore positioning ourselves outside the traditional, conservative transaction channels with complex and costly regulations".
Within a few years, the company has grown rapidly. In 2016, its CEOs entered the banking business. However, pitfalls have been twofold: Denmark, which preferred to keep its Danish krone when the euro zone was established in 1999, is excluded from a European money market, which brings together nineteen Member States and 350 million consumers, and had a cumulative GDP of €13.5 billion in 2018. The fintech has since been trying to find a solution, both to reach these potential customers and to reduce its exchange risks and costs.
Banking Circle decided to look for a new host country with an internationally recognised regulatory framework. In light of Brexit, they chose Luxembourg. At the start of 2017, Anders la Cour and his family emigrated to the Grand Duchy, where he quickly contacted the CSSF to obtain his banking licence. He went on to set up the London and Munich branches, which has kickstarted cross-border payment activities.
In September 2018, Banking Circle was taken over by EQT, a Swedish investor, among others.
Last February, the Luxembourgish subsidiary finally received its banking visa. Officially inaugurated in the presence of Finance Minister Pierre Gramegna on Thursday 27 February 2020, this subsidiary has become the group's headquarters. It has 50 employees, mainly bank employees and some IT staff. The head office in Copenhagen which houses the group's developers has now become a branch. Just recently approved, this fintech which claims current annual payment volumes of €130 billion, is already looking to expand to the United States and Asia.
This information was first published by Marc Auxenfants on Silicon Luxembourg.