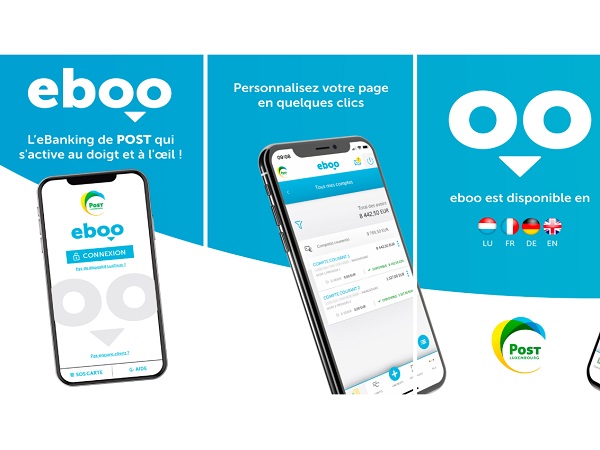 POST Luxembourg has announced the launch of its new generation e-banking solution: eboo.
Starting today, Thursday 6 February 2020, POST Finance customers will be able to access a brand new online banking solution, called eboo. Accessible via the smartphone or tablet application, as well as the internet browser, the eboo interface offers, in an identical way on all media, the e-banking functionalities of POST Finance.
The application thus allows customers to consult the balances of their current accounts and the outstanding amounts of their cards, to make transfers (standing orders, national and international) and to top up their Easy Visa card. Eboo also allows customers to manage their beneficiaries and their standing orders, generate and download bank details and ask to modify the limit of their credit cards. Customers can also customise the display, including their preferred account as well as the display order of their cards and accounts.
With eboo, it is also easier to get in touch with a POST employee either by sending them a message via secure messaging or by making a phone call to tel.: 800-28004 (in English, French, Luxembourgish or German).
POST Luxembourg's new online banking solution is available on www.eboo.lu or by downloading the mobile application from the App Store or Google Play. The opening of the application is secured by Face ID, Touch ID or smartphone's pin; only the first activation of the application and the signing of certain transactions (in accordance with the requirements of the PSD2 regulation) require strong authentication using a LuxTrust device.
To allow customers to gradually adopt eboo, the previous application and interface "CCP Mobile", respectively "CCP Connect" will remain accessible for a transitional period until mid-February.
Valérie Ballouhey-Dauphin, POST Finance director, commented: "The launch of our new e-banking eboo solution is a strategic step in the evolution of POST Finance towards a more direct approach in the relationship with our customers, a fair balance between digital and human and which highlights our constant concern to simplify the experience of our customers. Simple to the end, that's why we chose to call it "eboo", which is pronounced "hibou" ["owl" in French], by analogy with the characteristics of this bird: reliable, precise and always alert. What's more, its first two letters refer to the beginning of the word e-banking".