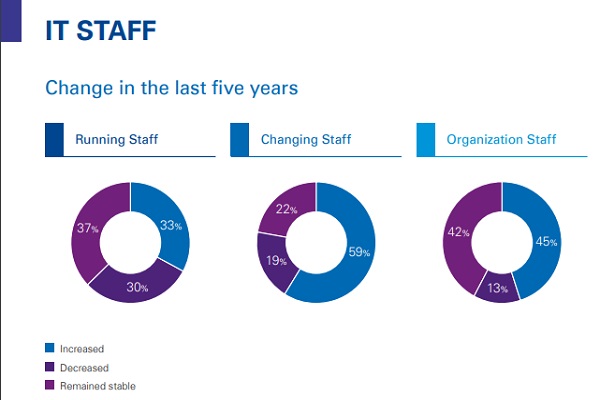 Credit: KPMG CBS Survey
KPMG has released its Core Banking Systems (CBS) Survey 2018, focusing on the IT operations of banks in Luxembourg.
The KPMG CBS Survey presents a snapshot of the banking industry's challenges and trends in terms of core banking systems and includes an overview of the banks' IT departments, their resources, budgets, legacy IT systems and the key considerations of their IT strategies. This edition of the survey places specific emphasis on the evolution of Luxembourg banks' IT strategy in terms of the use of cloud services, IT outsourcing and PSD2 implementation.
Concerning IT Resources and Systems, the majority of surveyed banks continued to focus on new investments in 2018. The bulk of the IT departments concentrated on development rather than maintenance, a factor that led to an increase in the size of their IT staff. The report also confirmed that outsourcing activities are expected to become an important driver for changes to staffing numbers in the next 5 years.

IT budgets have also increased with budgets devoted to transformational activities having risen by 10% while general operations budgets increased between 1%-10%. New investments mainly focused on meeting regulatory operations or introducing new products and services. Meanwhile, the three main CBS providers made further inroads into the Luxembourg market, as has been the case since 2010. Nevertheless, the current trend towards consolidating and restructuring existing banking entities did not create a positive environment for software editors to promote and achieve many new acquisitions.
The survey similarly found that the majority of banks had little or no knowledge of PSD2, despite the directive having come into force on 13 January 2018. This result indicates that banks in Luxembourg are far from ready for the changes outlined in the directive. Moreover, the majority of banks did not see the directive as a key enabler for strategy. Instead, banks look to their groups for direction and support.
When asked about IT infrastructure, many banking executives claimed to believe that the effects of open banking would be twofold: the IT architecture of their banks would change drastically but they would also be forced to reinvent their banking business. Despite the realisation that profound, strategic change is needed, most banks (56%) were only ready to commit to a compliance project for PSDII rather than a strategic project.

Finally, some type of Electronic Data Management Systems (EDMS) was found to be used by a large proportion of surveyed banks in Luxembourg, although no particular solution dominates the market. Nearly a quarter of respondents use OpenText/Documentum and less than a sixth of respondents use Microsoft's SharePoint and IBM's FileNet. The same proportion (15%) stated that they use an in-house solution. However, the majority of surveyed banks have not yet implemented a digital workplace that is always accessible.
Another question in the survey highlighted that around three quarters of respondents have yet to develop document-centric validation workflow or business process automation and the rest of the banks use EDMS for their workflow and business process management. More than half of surveyed banks do not consider the implementation of EDMS as an option for now and around a sixth of respondents believe they might adopt it in the next couple of years.