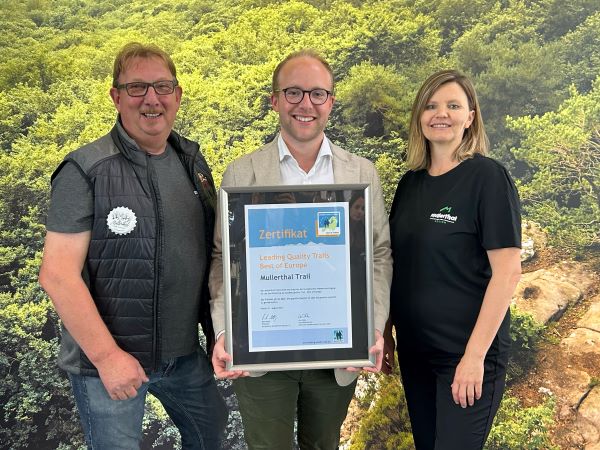 (L-R) Robi Baden, ORT Vice-President; Christophe Origer, ORT President; Linda Salentin, ORT Director; Credit: ORT
On Friday 1 September 2023, as part of the Caravan Salon in Düsseldorf, the international trade fair for mobile travel, the Mullerthal Trail received the "Leading Quality Trails - Best of Europe" label for the fourth consecutive time.
The European Ramblers Association awards hiking trails that meet specific quality standards the "Leading Quality Trails - Best of Europe" label. This label uses a particular system of criteria which integrates the needs of hikers and aims to guarantee a high standard.
To be certified, the trails must be marked continuously and offer a natural and varied route in an scenic landscape. Other required elements are cultural sights along the way, respite possibilities as well as connections with public transport. These are a few of the multiple criteria checked during the certification process.
Because quality is a decisive criterion in the choice of a holiday destination, the Mullerthal Trail managers expressed that they are proud to have obtained this quality label for the fourth consecutive time.
The president of Mullerthal's regional tourist office (ORT), Christophe Origer, expressed his gratitude during the presentation of the official quality certificate: "Without the collaboration in the region and the cohesion of all the players involved, it would not be possible to maintain the quality of our flagship hiking trail at a high level. More than 200,000 hikers took the Mullerthal Trail in 2022, making it a national tourist attraction."
The Mullerthal Trail has a total length of 112 kilometres and is divided into three routes (one of 38 km, two of 37 km, respectively). It offers hikers a variety of natural features including a rocky landscape.