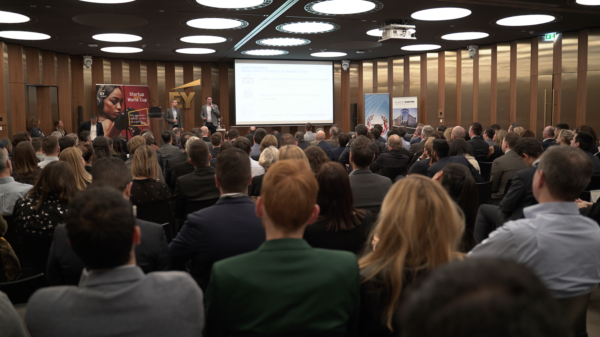 Credit: EY Luxembourg
On Wednesday 25 May 2022, EY Luxembourg announced the ten finalists for the Luxembourg regional edition of the Startup World Cup, taking place on Thursday 9 June 2022 at Luxembourg-Kirchberg, in the presence of a jury of renowned investors and entrepreneurs.
Organised worldwide by Pegasus Tech Ventures, the Startup World Cup is a global competition with the aim of bridging startup ecosystems together. The winner of the local pitching competition will represent Luxembourg and the Greater Region in the next round in San Francisco, United States, against more than 50 other candidates and the winning team will receive a $1 million prize in investment.
The ten competing finalist startups are as following:
A352 SARL
ANote Music SARL
BlocHome Operating Company SA
Boardigo SA
F4A SARLS
Gamma Technologies SARL
KeepLocal GmbH
Mission Space*
RoomMate SA
WEO SAS
The selection committee comprised of representatives of Luxinnovation (Stefan Berend, Stephanie Silvestri and Felix Weis), the Luxembourg-City Incubator (Bastien Berg), the House of Startups (Philippe Linster), the Technoport (Diego De Biasio and Margaux Lefebre), EU Tribe (Teona Khubutia), the Luxembourg Business Angel Network (Michel Rzonzef and Romain Hoffmann) and the University of Luxembourg Incubator and Entrepreneurship Programme (Pranjul Sha and Diana Rosa Caputo).
The House of Startups will invite the ten finalists to a dedicated training session to prepare their pitching for the finals. On 9 June, the finalists will pitch in front of an independent jury composed of venture capitalists and tech entrepreneurs:
Hans-Juergen Schmitz, Managing Partner, co-founder of Mangrove Capital Partners. He co-founded his firm in 2000 with a complementary team, something he considers a key success factor in every investment opportunity he looks at. He focuses on finding disruptive SaaS businesses addressing digital transformation in a variety of industries.
Owen Reynolds, Principal at Expon Capital focused on deep tech, energy, space tech, and the circular economy. He is investing into the fullness of the human potential to shape a more sustainable future.
Dara Nikolova, Angel investor and finance professional who helps companies innovate and capture growth opportunities. She loves to see purpose-driven ventures succeed and has mentored and invested in female-led and impact-driven companies for ten years.
Genna Elvin, Co-Founder of Tadaweb, a company pioneering the field of small data for the purposes of scaling human intelligence. Genna has a strong passion for encouraging the next generation to be present at senior and Board levels. In 2016, she was in Forbes magazine for her places as one of Europe's top 100 female founders.
Keith Hopper, co-founder of Edenholm Hopper Services, CFO for ONE group solutions, Managing Partner at Neil Ward & Associates. He advises companies ranging from start-ups to the Fortune 1,000, within the technology, financial services and entertainment segments.
The winner will be announced and awarded on the same evening after due deliberation.
Justin Jackson, Partner at Pegasus Tech Ventures, a venture capital firm, will be sharing his fundraising and growth investing experience with the audience in a keynote speech during the event.
Registration to participate in the event on 9 June 2022 is available online via: https://www.ey.com/en_lu/entrepreneurship/startup-world-cup
*Update: EY Luxembourg has since confirmed that Mission Space can no longer be present at the Startup World Cup event. The selection committee has decided on Asets-Lux to replace them.