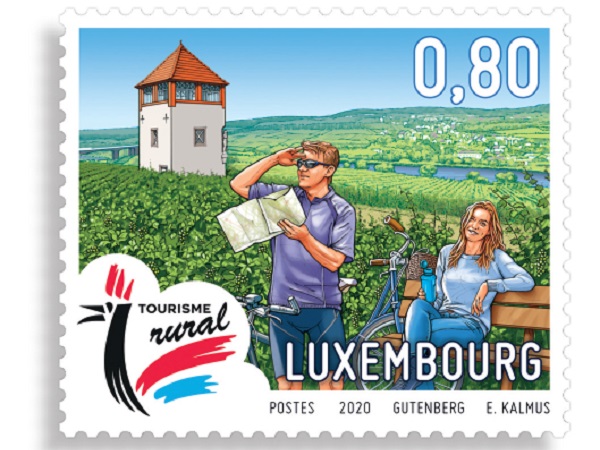 Credit: POST Philately
POST Luxembourg has announced that it received the Asiago International Philatelic Art Prize at the weekend for its stamps devoted to rural tourism.
On Saturday 24 July 2021, the jury of this prestigious prize announced the winners of the "most beautiful stamps in the world", including POST Luxembourg for the very first time, in Asagio, Italy.
Recognised worldwide as the Oscar of philately, the Asiago International Philatelic Art Prize has rewarded philatelic creation from around the world for more than 50 years in five categories. Issued in 2020, the stamps of the series dedicated to "Rural Tourism" earned POST Luxembourg the award for the "Tourism" category. The prize was awarded to Isabelle Faber, Communication & PR - CSR director of POST Luxembourg, who was present during the official ceremony which took place at the Asiago Town Hall in the presence of the Mayor of Asiago, members of the jury and representatives of the winning countries.
The series "Rural Tourism", designed by Luxembourg graphic designer Eugène Kalmus, is published as a trilogy, issued by POST Philately under the responsibility of Emile Espen, with two motifs per year. This special edition, which will end this year, promotes Luxembourg's offer in terms of tourism in rural areas. It is carried out with the support of the Ministry of Tourism and in collaboration with the Association for the Promotion of Rural Tourism in the Grand Duchy of Luxembourg (APTR). The motifs on the two award-winning stamps reflect the joys of rural tourism with easy-to-interpret images: children with farm animals or hikers in a country landscape in the vineyards of the Luxembourg Moselle. With his style that is both poetic and lively, the designer makes these illustrations seem idyllic and reminiscent of the joy that comes with the simple things in life.
Last year, two stamps from the same series issued in 2019 won the national competition for the "Most beautiful stamp" in Luxembourg.
Currently, the "Rural Tourism" series is among the best sellers on the POST Philately e-shop. It is also available at the Philatelic Counter and at post offices.