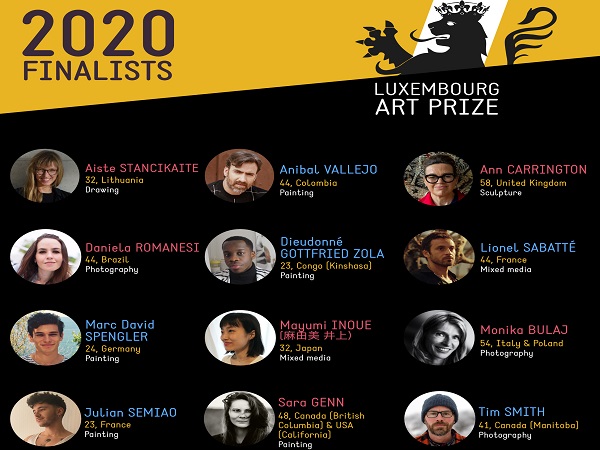 The artistic committee of the Luxembourg Art Prize 2020 has selected twelve artists to advance to the final of this edition.
From a total of 423 applications, the artistic committee selected the following twelve finalists for the 2020 edition of the prize:
- Monika Bulaj, 54, Italy & Poland, Photography
- Ann Carrington, 58, United Kingdom, Sculpture
- Sara Genn, 48, Canada & USA, Painting
- Dieudonné Gottfried Zola, 23, Congo, Painting
- 麻由美 井上 (Mayumi Inoue), 32, Japan, Mixed media
- Daniela Romanesi, 44, Brazil, Photography
- Lionel Sabatté, 44, France, Mixed media
- Julian Semiao, 23, France, Painting
- Tim Smith, 41, Canada, Photography
- Marc David Spengler, 24, Germany, Painting
- Aiste Stancikaite, 32, Lithuania, Drawing
- Anibal Vallejo, 44, Colombia, Painting
Further details about each selected artist are available at www.luxembourgartprize.com.
The winner of the Luxembourg Art Prize will be designated by the final jury. This year, the winner's name will be revealed on the above website on 1 December 2020 at 18:00.
The Luxembourg Art Prize is an annual international artistic prize organised by the Pinacothèque, a private museum located in the Grand Duchy. Every year, the prize aims to discover amateur and professional talents, regardless of age and nationality. Since its creation in 2015, the Luxembourg Art Prize aims to launch or boost the careers of artists at the international level by giving them a sound reference to add to their CV. The prize is aimed at artists working in one or more of the following media: drawing; printing; installation; painting; photography; sculpture; mixed media; decorative art (textiles and material, glass, wood, metal, ceramics, mosaic, paper or other techniques).
The winner of the 2020 edition will receive a scholarship amounting to €50,000.