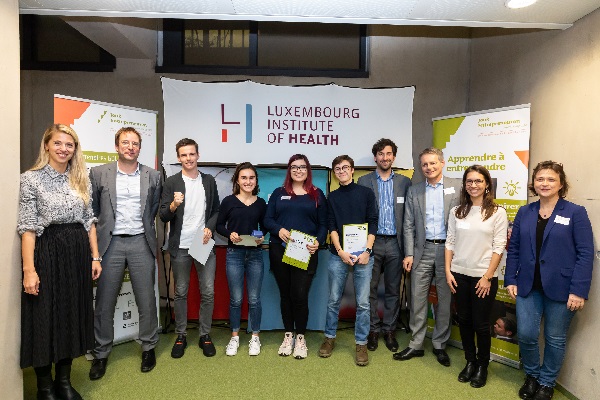 1st prize winners: Hear Health team; Credit: LIH; Jonk Entrepreneuren Luxembourg
Jonk Entrepreneuren Luxembourg have announced the winners of this year's Innovation Camp, held on Tuesday at the House of BioHealth in Esch-sur-Alzette.
Organised in collaboration with the Luxembourg Institute of Health (LIH), the 19th edition of the Jonk Entrepreneuren's Innovation Camp brought together a total of 55 students (aged 16-19) from seventeen secondary schools to reflect on ideas and innovative solutions to the a real business challenge proposed by a sponsor from the professional world.
The students were divided into eleven mixed teams of four to six students and had to respond to the following business challenge: "In the near future, our voice can be used as an indicator of our state of health. The LIH wishes to collect this information and use it, so that it can establish diagnostics and put in place prevention tools. You decide to create a Startup to exploit this potential and asking yourself the following questions: How could this data on our voice be collected daily? What would be the implications for doctors and patients? What would be the technical, practical and moral feasibility (respect for our private life)? How would we convince people of the merits of this practice and get them involved? What are the benefits for patients and how could doctors use this information?"
This intense experience offered young people the opportunity to learn to work as a team, meet deadlines, compete with other groups, present their ideas and defend them in front of a jury. The students received assistance from the following professional advisers from the LIH: Dr. Guy Fagherazzi, Research Leader in Digital Epidemiology; Dr. Gloria Aguayo, Scientist; Michael Schnell, IT Specialist in Health Data.
The students also had the opportunity to do a guided tour of the LIH laboratories in the House of BioHealth before presenting their project to the public and the jury, composed of Prof. Markus Ollert, Head of the Department of Infection and Immunity at LIH, Dr. Frank Glod, Chief of Scientific Operations at LIH, Prof. Laetitia Huiart, Head of Department of Population Health at LIH, Stephanie Silvestri, Advisor - Start-up Acceleration at LUXINNOVATION, and Dr. Sean Sapcariu, Program Manager, National Research Fund (FNR).
Winning Projects
First Prize: Team "Hear Health", composed of Stéphanie De Matos Ferreira (Lycée Technique de Lallange), Diego Stojadinovic (Lycée Michel Lucius), Pit Haupert (Lycée Aline Mayrisch) and Marina De la Cruz Galán (Lycée Vauban), for their project combining a mobile application with a smart bracelet that can recognise voices and detect vocal biomarkers indicating a cardiovascular problem in the patient. The bracelet also measures the voice, tension and pulsations of the patient in order to provide a complete weekly report.
Second Prize: Team "AdVoice", composed of Charlotte Martin (Lycée Hubert Clément), Carlos Teixeira Da Cruz (Lycée Technique de Lallange), Milene Santos Pires (Ecole Privée Fieldgen), Ivo Silva (Lycée Robert Schumann) and Guillaume Nickels (Lycée Aline Mayrisch), for their product consisting of a discrete chip attached to the tooth of a patient exposed to a risk of depression relapse. It collects voice data that is analysed by software which in turn makes enables a diagnosis of the patient's mental health.
Third Prize: Team "Tip Top", composed of Jeremy Elia (Lycée Vauban), Jonas Kleingarn (Lycée Robert Schumann), Héloïse Bégin (Lycée Ermesinde), Michèle Nau (Lycée Aline Mayrisch) et Domenic Bandeira (Lycée Technique de Lallange), for their project aimed at tracking and psychologically supporting patients with prostate cancer. The team wanted to create an application that will exchange daily with the patient by asking him/her a series of questions requiring an oral response. The application then records the voice and analyses the data. Depending on the results, the application will offer adapted activities, from nutrition advice to the patient's recovery.