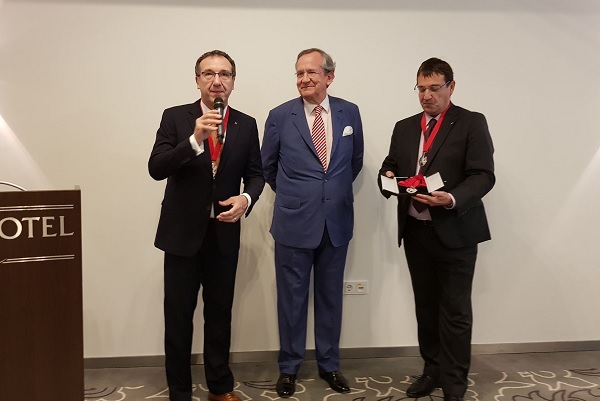 Centre: Georges M. Lentz Jr.; Credit: Jazmin Campbell
The Miami University John E. Dolibois European Centre (MUDEC) presented the "MuxLux" medal to George M. Lentz Jr. at a reception held on Tuesday evening at Parc Hotel Alvisse in Luxembourg-Dommeldange.
The MUDEC has bestowed this prestigious award on Georges M. Lentz Jr., Chief Executive Officer of the Brasserie Nationale (Bofferding brewery) and a graduate of Miami University in Ohio, for his longstanding support of both Miami University and MUDEC. Indeed, the MuxLux medal is awarded to "those whose selfless efforts have brought depth and meaning to the European Center".
During his many years of service to the university, Georges M. Lentz Jr. has taught classes at MUDEC, been a driving force in the local Miami University Alumni Association Luxembourg Chapter (MUAALC) and played a key role in helping to organise the MUDEC programme's 50th anniversary celebrations in Luxembourg this past October. The latter event brought over 700 former MUDEC students back to Luxembourg. He is also a member of the MUDEC Advisory Board, which works to connect and engage alumni in order to promote the programme's achievements and further MUDEC's goals and objectives.
At the reception, Georges M. Lentz Jr. spoke fondly of his time at Miami University and encouraged students currently on the programme to use their time in Luxembourg as a learning experience, to explore a new part of the world beyond Ohio and the USA. He was joined during this awards presentation by former winners of the MuxLux medal, including husband and wife Francis and Maisy Dumont, who have both significantly contributed to Miami University over the past four decades.
However, Georges M. Lentz Jr. was not the only beneficiary of an award on this occasion. The evening also saw the presentation of awards to several students on the programme:
- Zachary States received the Ruth and Leland Dutton Award for "academic excellence, citizenship, community membership, and well-balanced interests";
- Emily Hartup received the Castellini-Hecht Award for "outstanding work in community service";
- Estie Sinn and Katie Rauch shared the Maria Bach Dunn Academic Award for their "keen interest in Europe, excellent academic performance, and good citizenship";
- Carrie Pickering and Jackson DiCicco received the MUDEC Faculty/Staff Academic Scholarship for their "high academic standards, excellent citizenship at the Center and in the Luxembourg community and [...] keen interest in European and international affairs";
- Clare DiCuccio, Christina Fote, Elizabeth Harden, Courtney Madl, Clayton Musick, Catherine Nguyen, Henry Newell, Nathan Peters and Elijah Pittman received the Dean's Commendation for Outstanding Academic Performance & Contribution to the MUDEC Community, "in recognition of the inspiring combination of good spirits and academic engagement";
- Colin Barsella, Grace Moraski and Emma Vogelmeier were awarded the Presentation of Sashes to be worn on graduation day. This is a privilege granted by Miami University to all the alumni of the Miami University John E. Dolibois European Center.
- Kevin Hansbauer won the Musical Encouragement Prize for his contribution to the "Orchestra Weekend" organised on 16 and 17 March 2019 by the Symphony Orchestra, "Solistes Européens, Luxembourg", in cooperation with the John E. Dolibois European Center of Miami University.
These awards included tuition credits which range between $250-$4,500 and are funded by generous donations.