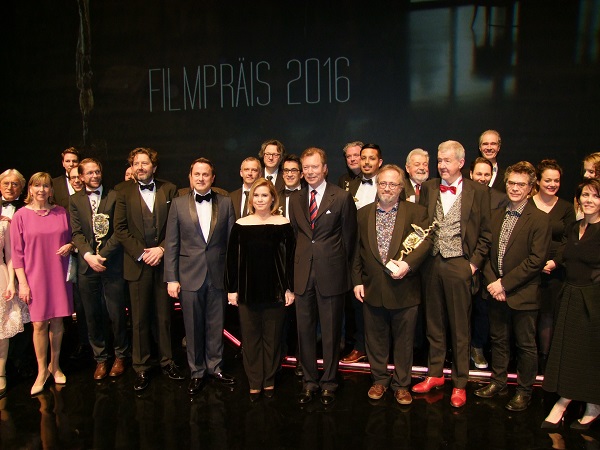 Lëtzebuerger Filmpräis 2016;
On Wednesday 20 June 2018, d'Film Akademie - Luxembourg's Film Academy - announced the nominations for the 8th edition of the Lëtzebuerger Filmpräis (Luxembourg Film Prize) being held on Saturday 22 September 2018 in the Grand Theatre.
The Lëtzebuerger Filmpräis is held every two years in the Grand Duchy. This year, 7 feature films from Luxembourg, 10 co-produced feature films, 3 animated feature films, 10 documentaries, 10 short fiction films and 7 TV and new media productions will be in the running to win a trophy.
Some new features for this 8th edition include the creation of a special prize for the best TV series and new media, a prize for the best creative contribution in a feature film or a prize for the best performance.
The Luxembourg Film Academy was founded in December 2012 by the film technicians' associations (ALTA), the directors and writers association (LARS), actors(ACTORS.LU) and producers (ULPA). The Filmakademie's mission is also to serve as a launching pad for audiovisual creation, with the cooperation of the Film Fund Luxembourg, the National Audiovisual Center (CNA), the Luxembourg Federation of Authors and Composers (FLAC), the Federation of the professions of animation and the virtual image (FMAIV) who have since joined the board of directors of the academy.
Nominations
Best Luxembourg animation or fiction film
- Barrage, directed by Laura Schroeder
- Croc Blance, directed by Alexandre Espigares
- Gutland, directed by Govinda Van Maele
- Justice dot net, directed by Pol Cruchten
- Meng Kollegen aus dem All, directed by Christoph & Wolfgang Lauenstein and Sean McCormac
- Rusty Boys, diretced by Andy Bausch
- Toy Gun, directed by Marco Serafini
Best Coproduction fiction film
- Black 47, directed by Lance Daly
- Egon Schiele, directer by Dieter Berner
- Es war Einmal in Deutschland, directed by Sam Garbarski
- Fauves, directed by Robin Erard
- Mammal, directed by Rebecca Daly
- Mary Shelley, directed by Haifaa Al-Mansour
- Night of a 1000 Hours, directed by Virgil Widrich
- Noces, directed by Stephan Streker
- Souvenir, directed by Bavo Defurne
- Storm, directed by Dennis Bots
Best Coproduction animation film
- Ethel & Ernest, directed by Roger Mainwood
- Richard the Stork, directed by Reza Memari and Toby Genkel
- The Breadwinner, directed by Nora Twomey
Best Documentary
- 50 Days in the Desert, directed by Fabrizio Maltese
- Ashcan, directed by Willy Perelstejn
- Courants d'airs, directed by Anne Schiltz
- Eldorado, directed by Loïc Tanson, Rui Eduardo Abreu and Thierry Besseling
- Foreign Affairs, directed by Pasha Rafiy
- La supplication, directed by Pol Cruchten
- Listen, directed by Jacques Molitor
- MappaMundi, directed by Bady Minck
- Schwaarze Mann, directed by Franz Hausemer
- Sixty8, directed by Andy Bausch
Best Short fiction film
- 818, directed by Claude Lahr
- Acheron, directed by Thoma Forgiarini
- Casting a woman, directed by Koxi
- Dem dem, directed by Christophe Rolin, Lopy Pape Bouname and Marc Recchia
- Dem Mich Seng Kichen, diretced by Diana Nilles
- Fils, directed by Cyrus Neshvad
- Les non-dits, directed by Samuel Perez
- Orientierungslos, directed by Lara Mack
- Sur le fil, directed by Loïc Tanson and Thierry Besseling
- Tout est calme, directed by Marylène Andrin
Best TV and new media production
- Bad Banks, directed by Christian Schwochow
- Ernest & Célestine - La collection, directed by Jean-Christophe Roger and Julien Chheng
- Fils de wouf, directed by Jacopo Armani
- Génération quoi?, directed by Julie Schroell
- Polo - saison 2, directed by Caroline Origer
- Ready Set Action, directed by Mathieu Fallara
- Routwäissgro - saison 2, directed by Rui Eduardo Abreu, Tom Alesch, Thierry Besseling & Loïc Tanson, Linda Blaschette, Charlotte Bruneau, Guig Jost, Claude Lahr, Eric Lamhène, Sandy Lorente, Karolina Markiewicz & Pascal Piron, Geneviève Mersch, Jacques Molitor, Christian Neuman, Catherine Richard, Anne Schiltz, Kim Schneider, Michel Tereba, Yann Tonnar, Serge Wolfsperger
Best Performance
- Fernand FOX - Jani in Rusty Boys
- Pol GREISCH - Lull in Rusty Boys
- André JUNG - Nuckes in Rusty Boys
- Marie JUNG - Edith Harms in Egon Schiele
- Vicky KRIEPS - Lucy Loschetter in Gutland
- Marc LIMPACH - Luc Jacoby in Bad Banks
- Hana Sofia LOPES - Giulia Levati in Toy gun
- Marco LORENZINI - Jos Gierens in Gutland
- Désirée NOSBUSCH - Christelle Leblanc in Bad Banks
- Astrid ROOS - Valerie Gauthier in Justice dot net
Best Creative contribution in an animation film
- Animation team - The Breadwinner
- Decor team - The Breadwinner
- Sound team - Croc Blanc
- Animation team - Ethel & Ernest
- Decor team - Ethel & Ernest
- Sean McCormack for the script - Meng Kollegen and dem All
- Animation team - Meng Kollegen aus dem All
- Animation team - Richard the Stork
- Design team - Richard the Stork
- Decor team - Richard the Stork
Best Creative contribution in a fiction or documentary film
- Pol Cruchten for the script - La supplication
- Pia Dumont for the editing - Night of a 1000 Hours
- Magdalena Labuz for the costumes- Black 47
- Jeannot Sanavia for the music - Rusty Boys
- Christina Schaffer for the decor - Night of a 1000 Hours
- Jean-Louis Schuller, Narayan Van Maele and Nikos Welter for the picture - Foreign Affairs
- Uli Simon for the costumes - Egon Schiele
- Béatrice Stéphany for the make-up - Egon Schiele
- Govinda Van Maele for the script - Gutland
- Narayan Van Maele for the picture - Gutland