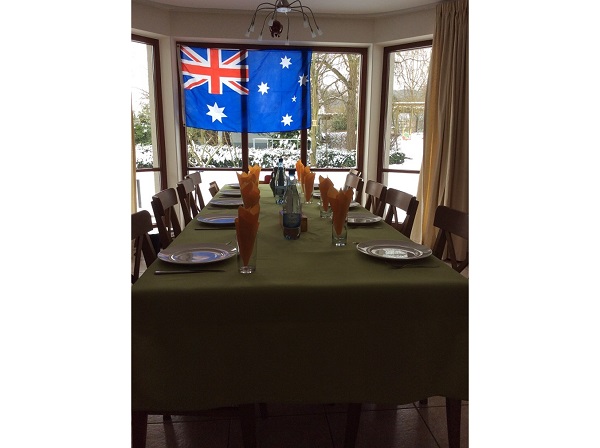 Australia Day celebrations in Luxembourg in past years; Credit: Maya Joshi
Celebrated annually on 26 January, Australia Day is the official national day of Australia; whilst the Australian community in Luxembourg remains small, it has grown over the years.
According to Luxembourg's national statistics agency, STATEC, there were 165 Australian nationals living in the Grand Duchy in 2021. Ten years earlier, there were 136 Australian residents.
Chronicle.lu reached out to Maya Joshi, co-chair and founding board member of the Australia and New Zealand Chamber of Commerce Luxembourg (ANZCCL), and Monique Bachner, co-founder of ANZCCL, both of whom are originally from Australia, for their insight into the Australian community in Luxembourg, as well as how they typically celebrate Australia Day.
Maya Joshi and Monique Bachner noted that the Australian community in the Grand Duchy is "small but growing". They rejoiced at the fact that the Home from Home "expat shop" in Strassen now stocks Tim Tams (a brand of chocolate biscuits) and Vegemite (a love-it-or-hate-it food spread) – two of the most iconic Australian foods.
They added that there are also several people in Luxembourg who have "strong connections to Australia", whether they have lived there personally in the past or have relatives there.
It is worth noting that Luxembourg and Australia have some partnership agreements in place, such as a work and travel exchange programme, which allows young Luxembourgish nationals (aged 18 to 30) to live and work in Australia (and young Australians to live and work in Luxembourg) for up to twelve months. There are 100 places available each year for Luxembourgish citizens wishing to discover Australia in this way.
In terms of how Australia Day is typically celebrated, Maya Joshi and Monique Bachner explained that this is "usually a relaxed summer public holiday, falling just before the school holidays end". In Luxembourg, one major difference is the weather this time of year, although they do try to have a barbecue if possible. "The snow makes a very convenient crémant chiller", they quipped.
Ms Joshi and Ms Bachner also addressed the controversy surrounding the date of Australia Day: "26 January marks the 1788 landing of the first British colonising fleet in Australia so it's not a positive date for Indigenous Australians, who've been in Australia for at least 50,000 years". They added that there is a campaign in Australia to change the date.