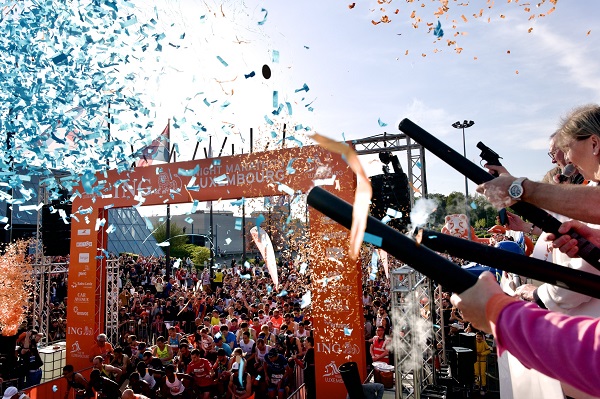 Credit: © Ville de Luxembourg - Tom Jungbluth
The organisers and partners of the ING Night Marathon Luxembourg have confirmed that more than 13,000 athletes from 120 countries took part in the sixteenth edition of this ever-popular night run on Saturday 20 May 2023.
The event kicked off at Luxexpo The Box in Luxembourg-Kirchberg at 19:00 on Saturday and offered participants of all ages and abilities the opportunity to cover various distances across Luxembourg City. Along the route, DJs and samba groups, as well as choirs, brass bands and Portuguese folk groups ensured the musical diversity and festive atmosphere at 56 points along the way.
The winner of the sixteenth edition of ING Night Marathon Luxembourg was Kenyan runner Erick Kiptoo, with a time of 02:13:14 hours. Fellow Kenyan James Kiplagat finished in second place (02:14:40), followed by Moroccan runner Abida Ezamzami in third place (02:23:04). The first Luxembourger to cross the finish line this year was Luc Scheller, who finished fourth overall (02:37:12).
The first woman to cross the finish line was Kenya's Mercy Jebichii Kipkemoi (02:37:20). After the awards ceremony, she said: "I am very happy to be here in Luxembourg. The route is very demanding; there are many climbs and descents. I liked seeing people cheering along the route, some singing". Fellow Kenyan Flomena Ngurasia secured second place (02:42:37), followed by Germany's Pia von Keutz in third place (03:06:31). The first Luxembourgish woman to cross the finish line was Shefi Xhaferaj, in fourth place (03:12:55).
Among the men, Luxembourg's Yonas Kinde won the half-marathon (01:07:57), followed by Belgium's Tommy Kinders (01:11:29) and Italy's Riccardo Marchesi (01:11:45) in second and third place, respectively. Ukrainian runner Tetyana Vernygor was the first woman to cross the finish line (01:20:10), followed by Luxembourg's Anny Wolter in second place (01:20:21) and France's Camille Bucciarelli in third place (01:23:30).
Race director Erich François expressed his delight at the positive turnout: "After the pandemic, there were people who had registered but who had not been able to train and who didn't show up in the end. This year, we had extremely few no-shows."
In its second year after the COVID-19 pandemic, the marathon team went on the offensive to get people to "ditch their slippers" and don their running shoes again. They thus launched the "From Office to 42" initiative, aimed at companies whose employees wanted to get back on the road after two years of working from home. Supported by Luxembourg's Ministry of Health, the Luxembourg Chamber of Commerce and the European Commission, this initiative has resulted in two free weekly training sessions since January 2023. In the end, a total of 332 companies signed up more than 4,000 people from their ranks in this year's ING Night Marathon Luxembourg.
Moreover, for the first time this year, young people from three schools split the distance of the marathon between them in the form of a relay race, as part of "Unity Run 42". "We convinced three schools to participate in the project, in particular thanks to our collaboration with Unity Foundation", explained Erich François. "The students are super committed. I think we won't stop at three schools, it will be huge." All proceeds from the school run will be donated to development and education projects.
About 2,500 volunteers were involved in making this edition a success.
The next ING Night Marathon Luxembourg will take place on Saturday 11 May 2024.