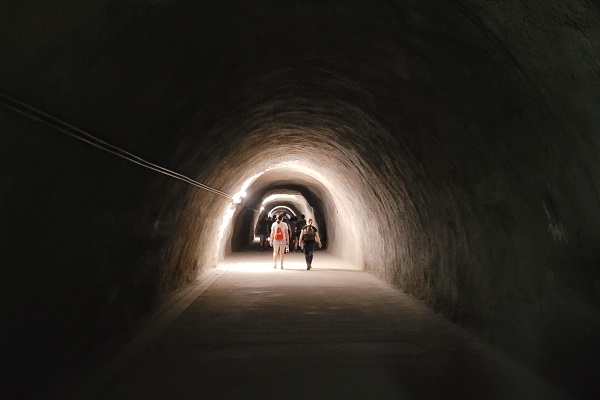 Credit: Jazmin Campbell
On the evening of Saturday 18 June 2022, a total of 500 people embarked on the very first UBS MoonWalker Luxembourg night hike event in Luxembourg City.
There were three distances from which participants could choose: 10 km, 20 km or 50 km. According to Erich François, Founder and Managing Director of step by step SA (organisers of UBS MoonWalker Luxembourg and ING Night Marathon Luxembourg), 30 people were registered for the 50 km night hike; the remaining 470 participants were divided fairly evenly across the 10 km and 20 km hikes, although most people opted for the latter.
The 10 km "Venus" option took participants from the starting point in Parc d'Coque in Luxembourg-Kirchberg to the Church in Luxembourg-Hamm via the Pfaffenthal, Grund and Pulvermuhl districts, along the River Alzette; the 20 km "Mars" option saw participants continue on through the forest next to the Luxembourg American Cemetery, through Luxembourg-Cents onto Neudorf-Weimershof and bringing them back full circle to Parc d'Coque; the 50 km "Jupiter" extended route took the more experienced hikers onto the districts of Weimerskirch and Dommeldange, into the Grünewald forest and beyond the limits of Luxembourg City onto Gonderange, past Ernster and Rameldange through the forest and back to Luxembourg-Kirchberg.
Highlights along the way (common to all three distances) included access to a 900 metre-long underground tunnel (normally closed to the public) under Luxembourg-Ville, taking participants from Pfaffenthal to the Péitrusse Valley, with a waterfall and DJ, spotting fireflies in the forest near Hamm and tucking in to a hearty vegan soup and sandwiches (with a hummus filling provided by local restaurant Chiche!) at the end of the hike. Refreshment stands were set up along the routes as well.
Speaking to Chronicle.lu at the end of the 10 km route, Erich François said that he was pleased with this first event. "We were completely lucky with the weather", he noted. He added that the organisers had made the decision to cap numbers at 500 people to give the event a more exclusive feel and see how things work before building on this for future MoonWalker events. Concerning the highlights of this first edition, he stated: "Some places will be really burned in the brains of people", such as the underground tunnel and the spot where participants emerged from the darkness of the forest to be greeted by an illuminated woman on stilts. Many participants also noted that they had experienced new smells in the forest. Such experiences "will stay in their minds. They will remember it for 20 years [...] because you have to open your senses", Mr François concluded.
The next UBS MoonWalker Luxembourg event is scheduled to take place in Vianden on Saturday 10 September 2022.