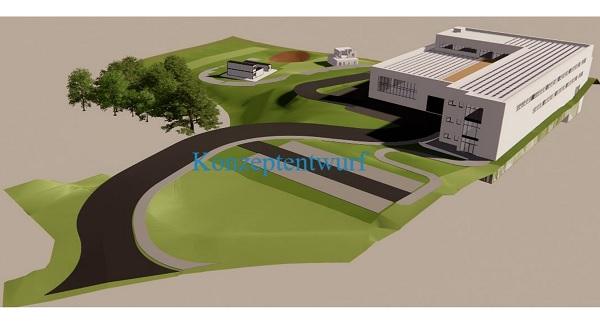 Credit: Luxembourg Government / CGDIS
Luxembourg's Minister for Energy and Spatial Planning, Claude Turmes, and the Minister for Home Affairs, Taina Bofferding, recently presented the plans for a new Grand Ducal Fire and Rescue Corps (CGDIS) intervention centre in northern Luxembourg.
The presentation took place during a public information meeting in Diekirch, in the presence of Mayor Claude Thill, CGDIS General Director Paul Schroeder and the head of the buildings department at CGDIS, Steve Meyer.
It is believed that the "CIS Nordstad", resulting from the merger of the intevention centres in Diekirch and Ettelbruck, will help to achieve the coverage objectives defined by the national plan for the organisation of emergency services (Plan national d'organisation des secours - PNOS).
"The PNOS constitutes the leading programme in the field of civil security which promotes the resilience of the entire country," said Minister Bofferding, adding that this will help the CGDIS to meet the objective of reducing its response time to fifteen minutes (anywhere in the country) in the event of an emergency. "The CIS Nordstad constitutes an essential element and contributes to the improvement of operational and territorial coverage for the North relief zone."
According to the ministers, the decision to build the CIS Nordstad in the Fridhaff industrial zone in Diekirch, was the result of an in-depth analysis by an interministerial working group which was based on four criteria in accordance with the principles of sustainable territorial planning, namely: accessibility, surface necessary for the realisation of the project, acquisition costs and the impact on the environment.
"I am delighted that under the leadership of the Department of Spatial Planning, the government has found the best possible location for the construction of the CIS Nordstad and that it will guarantee the CGDIS [can] fulfil its activities to the best of its ability to serve the population of north of the country," stated Minister Turmes.
The land intended for the realisation of the project is located at the northern limit of the Fridhaff regional industrial zone and has an area of approximately 21,700 m2. With this site, according to the ministers, the CGDIS will have a strategic location in the agglomeration of Nordstad which will allow the CGDIS to quickly reach the cities of Ettelbruck and Diekirch (where the majority of emergency interventions are carried out in the northern relief zone) and which guarantees a good road service in order to allow the distribution of relief, especially in the case of sending reinforcements to the surrounding areas.
As reported by other local media, the new intervention centre is expected to be built by 2026.