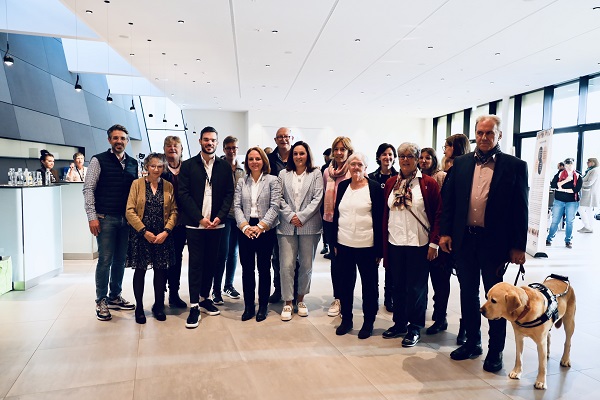 International Day of Older Persons 2022; Minister Corinne Cahen and participants at CELO, Hesperange; Credit: MFAMIGR
Luxembourg's Ministry of Family Affairs, Integration and the Greater Region, has marked International Day of Older Persons, held every year on 1 October, with a focus on the diversity of elderly people to show that, contrary to many prejudices, age does not fade or extinguish everyone's individualities.
Every year on 1 October, the international community celebrates the "International Day of Older Persons" with the aim of raising public awareness of the challenges resulting from increased life expectancy, to honour the many contributions seniors make to society and to highlight issues of concern to elderly persons their families and professionals working in this sector.
In this context, the Ministry entrusted GERO-Kompetenzzenter fir den Alter with the organisation of the 2022 International Day of Older Persons (IDOP) last Saturday. Entitled "Long Live Diversity", this event at the CELO cultural centre in Hesperange concluded a series of conferences and publications dedicated by GERO to plurality, including on issues of identity sexuality, religion and culture of the elderly.
In the first part of the programme, participants, including the elderly and professionals from the field of work with the elderly, exchanged views on the diversity of age in two participative and creative workshops.
The second part, which was open to the public, focused on celebrating the plurality of the elderly. In the presence of the Minister for Family Affairs and Integration, Corinne Cahen, the conclusions of the various exchanges and workshops were framed by filmed testimonies of a number of elderly persons and with performances by artists such as Katy Fox, David Soner or the characters of Zizou and Zazou played by Frédérique Colling and Catherine Elsen.
For Minister Corinne Cahen, "diversity, whatever its nature, is a wealth. Diversity is, moreover, an integral part of society in Luxembourg". Appearance, religious affiliation, sexual orientation or identity, culture, physical or mental disability are just some of the facets that contribute to make us unique, whatever our age. Minister Cahen called to mind in this context that "the fact of recognising and accepting this plurality helps to combat prejudice and discrimination and to enable a better coexistence. It is essential to reach out to others and to try to get to know them".
This call for tolerance and celebration of diversity was finally translated into music by the Kinima collective to conclude the International Day of Older Persons 2022.