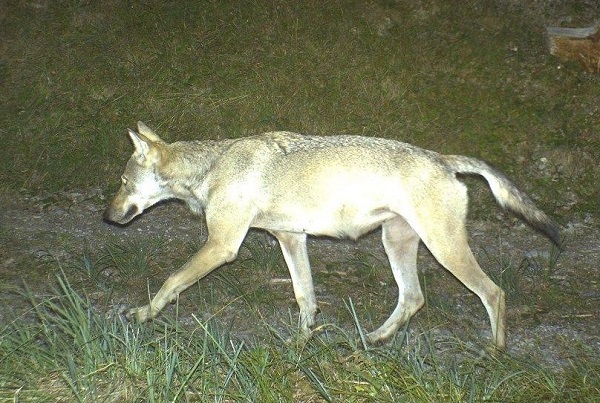 Credit: KORA & C Spadin
Luxembourg's Nature and Forest Agency has reported that experts in Wallonia recently confirmed the presence of wolves in the Etalle area, just a few kilometres from the Belgium-Luxembourg border.
In the last few weeks, there have been several reports of wolves in the Etalle area in the province of Luxembourg, Belgium. This has recently been confirmed by experts from Wallonia on the basis of genetic analyses. Due to the proximity to Luxembourg, the Nature and Forest Agency believes that this animal may also pass through the Grand Duchy. The next few weeks will show whether and how long the wolf will remain in this area.
In Belgium, reports of the presence of wolves have increased in recent years. In addition to a number of individual records, wolf pups were observed in the High Fens in 2021 and a pack is now resident there; there were offspring again in 2022. There is also a pack in Flanders. In the Netherlands, there were four in 2022. According to the Nature and Forest Agency, it is therefore only a matter of time before wolves also settle in Luxembourg. In 2017, the first reliable evidence was found in Luxembourg, in the Holzem-Garnich area, then again in 2020 in the Niederanven area and in 2022 in the Wincrange area. In addition, there was a confirmed indication in 2018 near Fouhren in north-eastern Luxembourg. In these four cases, however, it is believed that the wolves were most likely migrating.
Any indication of the presence of wolves should be reported immediately to the Nature and Forest Agency via email: wolf@anf.etat.lu.
The Nature and Forest Agency also recalled that the wolf, which plays an important role in our ecosystems, is strictly protected throughout Europe.
In the rare event of an encounter with a wolf, the public is advised not to run away, as this can trigger the animal's hunting instinct, but also not to move towards the animal; always keep an eye on the wolf but avoid eye contact. Members of the public should also try to get the wolf's attention, by shouting and waving their arms; if the wolf does not retreat immediately, one should back away slowly and keep a respectful distance. If the wolf approaches further, one should keep calling to him and throwing branches, stones or similar at the animal. The Nature and Forest Agency also warned against trying to lure wolves with food.
Luxembourg's wolf action plan and a brochure on the code of conduct are available free of charge online and in print from the Nature and Forest Agency via tel.: 247-56652, as well as in the agency's visitor centres: Mirador in Steinfort, A Wiewesch in Manternach, Ellergronn in Esch-sur-Alzette, Biodiversum in Remerschen and Burfelt near Insenborn. It is also available online at www.emwelt.lu.