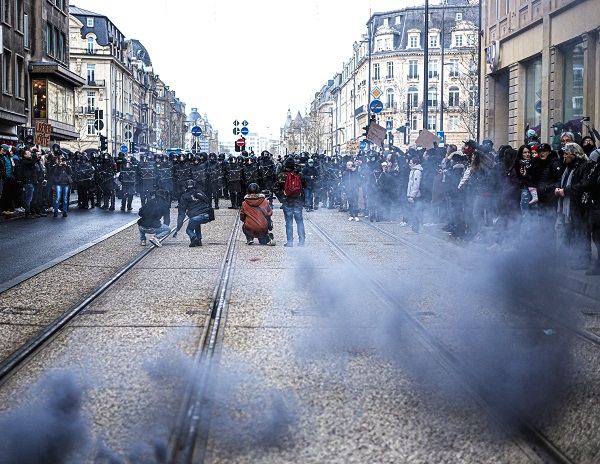 Demonstration in Luxembourg-ville on 15 January 2022; Credit: Ali Sahib
On Saturday 15 January 2022, a total of 30 people were arrested at a demonstration in Luxembourg-ville.
The Grand Ducal Police were present in order to supervise the protest and to intervene in the event of public order disturbances.
From 14:00, around 30 participated in a peaceful demonstration at the Glacis car park in Luxembourg-ville; the protest concluded at around 16:30, with some traffic disruption experienced byroad users.
Also from 14:00, a second (unauthorised) gathering formed at the Place de la Gare in Luxembourg-ville, with around 350 demonstrators. At around 14:30, the protest set off towards Avenue de la Liberté, but was stopped by the police at the Place de Paris.
All those who participated in this gathering were subject to an identity check on the basis of Article 5 of the law of 18 July 2018, as the demonstration did not have the necessary authorisations. The roads were then cleared shortly after 19:00.
In total, around thirty people were arrested in connection with the demonstration; in 16 of these cases, legal proceedings were initiated for various reasons including rioting and launching pyrotechnic devices (fireworks / flares) in the direction of police officers.
The Grand Ducal Police will continue to maintain a presence in the centre of Luxembourg-ville throughout the evening.