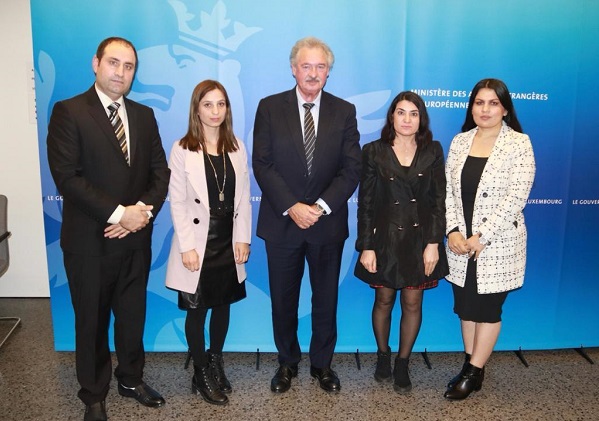 L-R: Haider Elias, President of Yazda; Hala Safel, survivor; Jean Asselborn, Luxembourg's Foreign Minister; Salwa Saydo, survivor; Vian Darwesh, Advocacy Coordinator & interpretor; Credit: MAEE
On Thursday 18 November 2021, Luxembourg's Minister of Foreign and European Affairs, Jean Asselborn, met with two survivors of the genocide of Yazidis by the Islamic State (Isis) in the Sinjar area of northern Iraq in August 2014.
Minister Asselborn listened to the testimonies of Hala Safel and Salwa Saydo, two survivors of the atrocities committed by Daesh and members of the Yazidi Survivors Network. The two women, together with Haider Elias, Co-Founder and President of the non-profit Yazda, called for awareness-raising efforts among the public and the international community on the challenges facing Yazidis in Iraq.
Seven years after the massacres, the number of displaced people in the Yazidi community still stands at 200,000 people, and more than 2,700 people, many of them women and children, are still missing.
Minister Asselborn welcomed the adoption by the Iraqi parliament of the "Yazidi Survivors Law", which recognises the crimes committed by Daesh against Yazidis, as well as the Turkish, Shabak and Christian communities, in Iraq as genocide and crimes against humanity. This decision is an important step in the fight against impunity, according to the minister, who stressed, however, that it is now important to advance the implementation of this new law.
The meeting was also an opportunity for Luxembourg's Foreign Minister to discover the virtual reality experience "Nobody's Listening", designed by Yazda, with the assistance of Ryan D'Souza. Using a virtual reality headset, this innovative tool allows users to put themselves in the shoes of a resident of Kocho, the native village of Iraqi Yazidi human rights activist Nadia Murad in Iraq, in order to better understand the traumas that still haunt survivors.