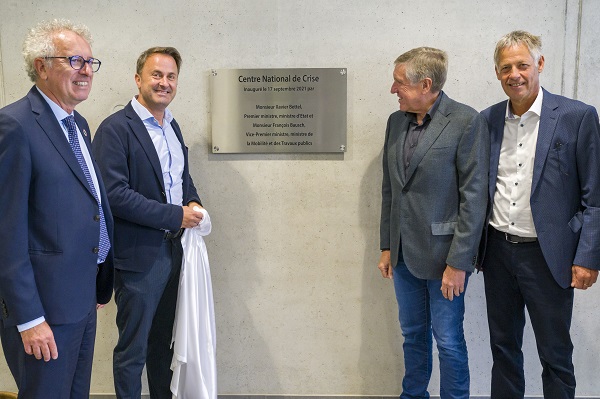 L-R: Pierre Gramegna, Minister of Finance; Prime Minister Xavier Bettel; François Bausch, Deputy PM, Minister of Mobility & Public Works; Henri Kox, Minisiter for Internal Security; Credit: © SIP / Jean-Christophe Verhaegen
Last Friday marked the inauguration of the National Crisis Centre (Centre national de crise - CNC) in Senningen, located in the municipality of Niederanven in central Luxembourg.
On 17 September 2021, Luxembourg's Prime Minister Xavier Bettel and the Deputy Prime Minister and Minister of Mobility and Public Works, François Bausch, in the presence of officials from the High Commission for National Protection (Haut-commissariat à la Protection nationale - HCPN) and the Public Buildings Administration, inaugurated the new National Crisis Centre.
Convinced of the need to have a place to manage a major crisis, the Prime Minister tasked the HCPN and the Public Buildings Administration with the planning of the CNC on the site of Senningen Castle. The HCPN also has the mission of overseeing the establishment and operation of this new centre.
The new CNC meets the following criteria: to be operational in times of crisis within a short period of time; have a secure infrastructure and the necessary equipment to manage a crisis; allow members of the crisis unit to work in a secure environment; be easily accessible and operational 24/7.
The programme was developed in close collaboration with the HPCN and the Government IT Centre (Centre des technologies de l'information de l'État - CTIE). The building brings together in one place the different services of the HCPN, formerly spread over four sites. In the event of crisis management, the new CNC can accommodate up to 105 people.
Four rooms are particularly reserved for the management of a crisis and are equipped with the most recent means of communication. These rooms also allow the departments of the Grand Ducal Police and the Grand-Ducal Fire and Rescue Corps (Corps grand-ducal d'incendie et de secours - CGDIS) to establish direct connections with the police command centres and the CGDIS.
The works, the total cost of which is €20,500,000, began in 2018. The commissioning and installation of the HCPN took place in May 2021.