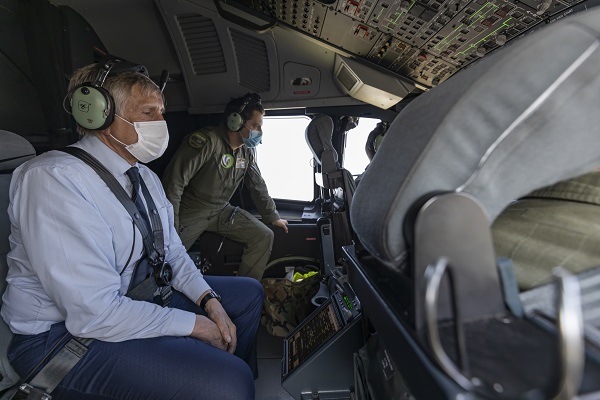 François Bausch, Luxembourg's Minister of Defence, aboard the A400M; Credit: Kristof Moens
Luxembourg's Directorate of Defence has announced plans to set up a joint Luxembourg-Belgium battalion.
On Wednesday 16 June 2021, Luxembourg's Minister of Defence, François Bausch, visited the binational fleet of A400M military aircraft based in Melsbroek (Belgium), in the presence of the High Representative of the European Union for Foreign Affairs and Security Policy and Vice-President of the European Commission, Josep Borrell. Both the Defence Minister and the Vice-President boarded the A400M for a demonstration flight.
During the visit, Luxembourg's Defence Minister reiterated his thanks to Belgium for the excellent cooperation, at government level as well as at the level of the armed forces, in the context of the implementation of the A400M binational unit, which is expected to bring the two countries into a new era of strategic and tactical airlift.
According to Minister François Bausch, this aircraft and binational fleet underline the ambition and vocation of the Luxembourg Army to put its capabilities at the service of its bilateral, European and allied partners. This fleet will serve the needs of the seven member states of the European Air Transport Command (EATC) which will be able to give missions to the binational unit and will carry out not only military operations, but also crisis management and humanitarian aid missions for the benefit of the European Union when needed.
On the sidelines of this visit, the Defence Minister announced plans to set up a Luxembourg-Belgium land forces battalion, a project that fits into NATO's defence planning. It is expected that Minister François Bausch and his Belgian counterpart, Minister Ludivine Dedonder, will sign a letter of intent to this effect at the next Gäichel meeting between the Belgian and Luxembourg governments on 7 July 2021. Where this battalion is to be stationed remains to be seen.