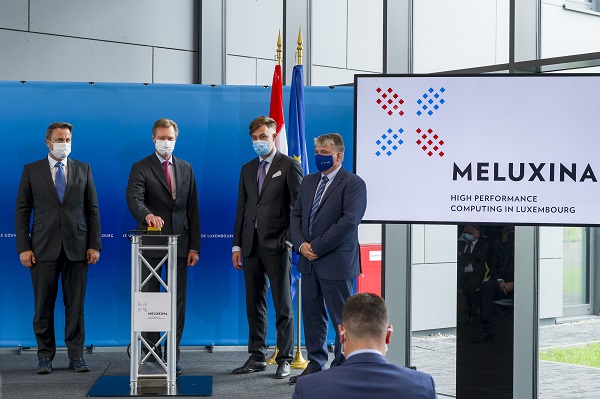 at launch of MeluXina supercomputer, (L-R): Prime Minister Xavier Bettel; HRH the Grand Duke; Minister Franz Fayot; Anders Jensen, Executive Director of EuroHPC JU; Credit: © SIP / Jean-Christophe Verhaegen
Hosted in the LuxConnect data centre in Bissen, Luxembourg's first supercomputer MeluXina is now operational: the official inauguration ceremony took place yesterday, Monday 7 June 2021 in Bissen, in the presence of HRH the Grand Duke, the Prime Minister, Minister of State and Minister of Digitisation, Xavier Bettel, the Minister of Economy, Franz Fayot, and the mayor of the municipality of Bissen, David Viaggi.
With 10 petaflops of computing power (equivalent to 10 million billion computing operations per second), MeluXina is ranked among the top 50 high-performance computers in the world. In addition, in the top 500 of the most powerful supercomputers in the world, MeluXina is in terms of energy efficiency among the best systems and will be powered by green energy. Under the joint supervision of the Ministry of State and the Ministry of the Economy, LuxProvide SA, a wholly-owned subsidiary of LuxConnect, is in charge of operating MeluXina.
MeluXina is integrated into a European network of 8 supercomputers. This network is implemented by the EuroHPC JU Joint Undertaking, an EU initiative launched at the instigation of Luxembourg and co-funded by the European Commission and 33 countries, including the Grand Duchy. The initiative aims to develop a world-class supercomputer ecosystem in Europe as a key building block of the Digital Single Market and European Cloud initiatives. The seat of the EuroHPC JU Joint Undertaking is located in Luxembourg.
HPC infrastructure: a tool to generate industrial value
High performance computing (HPC) is the ability to perform complex calculations at high speed in areas such as modelling and simulation, large data analysis and artificial intelligence. With the help of HPC, data is quickly interpreted, evaluated and visually projected to show patterns and guide researchers and engineers to better products or processes. The benefits are numerous: more precise design of complex parts, reduced time to market of products and reduced material costs.
There are huge advantages to using HPC modeling and simulation for product optimisation, as prototyping is often a long and expensive process. With MeluXina, high performance computing becomes more accessible to research as well as to the Luxembourg and European economy. Start-ups, SMBs and large enterprises, as well as research organizations, can run HPC workloads by accessing MeluXina's compute resources.
An HPC centre of expertise in Luxembourg
A competence centre will coordinate the development of HPC expertise at national level and facilitate access to HPC opportunities (national and European projects) for research, scientific users, public administration, but also in industrial sectors, offering thus tailor-made solutions for a wide variety of users. Operational at the end of 2022, the national centre of competence in high performance computing will be a one-stop-shop for companies and will offer personalised professional support and technical expertise to set up HPC projects.
"That's it: MeluXina is ready to swim! It is now that the adventure of Luxembourg's first supercomputer can really begin. It is an extraordinary machine that ranks among the best performing supercomputers in Europe and around the world: we already passed the 10 petaflops per second mark last week. Meluxina will therefore be among the top 50 of the best high performance computers. We are convinced that MeluXina will help boost innovation and competitiveness of our country and the European Union in a highly globalised sector," Prime Minister Xavier Bettel said at the inauguration ceremony.
During the inauguration ceremony, the Minister of the Economy, Franz Fayot, said: "MeluXina will best support the digitisation and innovative projects of companies for applications relating to modeling, research, development of new products, forecasts and even Big Data. MeluXina will thus support the digital transition of the national and European economy by offering companies new opportunities to innovate and remain competitive in an increasingly digital world."
EuroHPC JU Executive Director Anders Dam Jensen commented: "EuroHPC JU is particularly attached to MeluXina since this supercomputer is located in Luxembourg, which also hosts the headquarters of this joint venture. Despite the challenges posed by the COVID-19 situation, EuroHPC JU is in a phase of strong expansion and acceleration, with MeluXina being the second supercomputer launched in just three months. Today we see the fruits of the work of EuroHPC JU and of Europe's investments in our technological future. Thanks to LuxProvide's tireless work, the MeluXina supercomputer is fully operational and will significantly increase the computing power currently available in Europe."