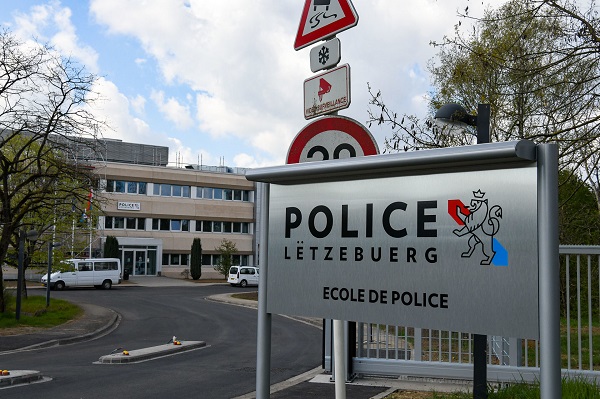 Credit: MSI / police grand-ducale
Following its inauguration on 26 April 2021, the new Luxembourg Police Academy (École de police) opened its doors yesterday to its first cohort of police officer trainees, recruited as part of the large-scale recruitment plan started in 2020.
On Monday 3 May 2021, Luxembourg's Minister of Internal Security, Henri Kox, and the Director-General of the Grand Ducal Police, Philippe Schrantz, addressed the future police officers via video conference. The Director-General insisted on the historic nature of this "school start" because of its extraordinary scale. He congratulated the civil servant trainees by evoking the honor, but also to the responsibility which go hand in hand with the exercise of their future profession in the service of citizens.
The new premises of the Police Academy are located in a completely refurbished building in Luxembourg-Findel (Rue de Neudorf), which is able to accommodate around 200 civil servant trainees per year.
Minister Henri Kox noted: "We had three missions and we accomplished them all: the new premises of the Police Academy were finalised on time despite the pandemic, we succeeded without great difficulty in recruiting the 200 new recruits, and their training has been adapted to the reality and current needs in the field". He added: "Without forgetting that in a year, these some 200 recruits will join the various police stations of the country for their practical initiation phase".
The training of these future police officers consists of a phase of theoretical and practical police training in the first year and a practical initiation phase within police stations and the judicial police service in the second and last years.
The theoretical and practical police training phase takes place at the Police Academy, where the civil servant trainees will learn, among other things, police and security techniques as well as the legal framework of police functions and missions. They will take courses on administrative and judicial police and road traffic. The programme also includes physical and sports education and courses on the use of weapons.
The practical initiation phase consists exclusively of learning in the field. The main objective is a gradual assimilation of theoretical knowledge through practical experience.