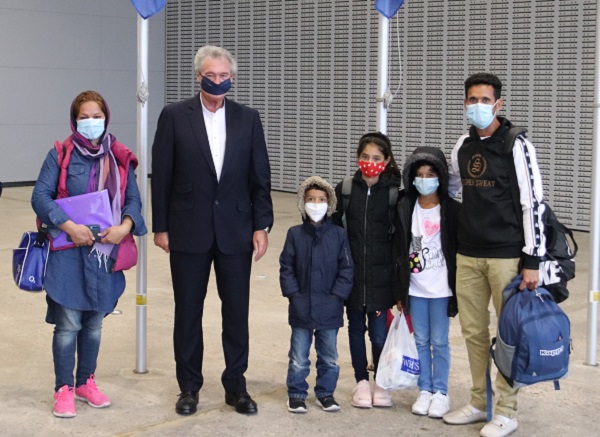 Jean Asselborn, Luxembourg's Foreign Minister, pictured with the newly arrived family; Credit: MAEE
Luxembourg's Ministry of Foreign and European Affairs has confirmed the arrival in the Grand Duchy of a young family with three children from the Moria refugee camp in Greece.
On Tuesday 29 September 2020, Luxembourg's Minister of Foreign and European Affairs and of Immigration and Asylum, Jean Asselborn, met with the family and their three children (aged 10, 8 and 7) at Luxembourg Airport. The family, who are of Afghan origin, arrived in the Grand Duchy earlier today from the Moria refugee camp in Greece as part of a relocation.
Following the fire that occurred in the Moria camp on the Greek island of Lesvos at the beginning of September, Minister Jean Asselborn signalled that Luxembourg was prepared to participate in solidarity efforts at the European level by initially welcoming around fifteen refugees in order to alleviate the precarious situation in the overcrowded refugee camps in Greece.
With the arrival of this first family as well as that of another family in the near future and several unaccompanied minors from the Moria camp, Luxembourg will have taken in a total of 125 refugees from Greece so far this year.
This relocation is part of the broader context of the aid provided by Luxembourg to Greece in the context of the migration crisis that the latter has been facing for several months, particularly in the context of the COVID-19 pandemic in overcrowded refugee camps.