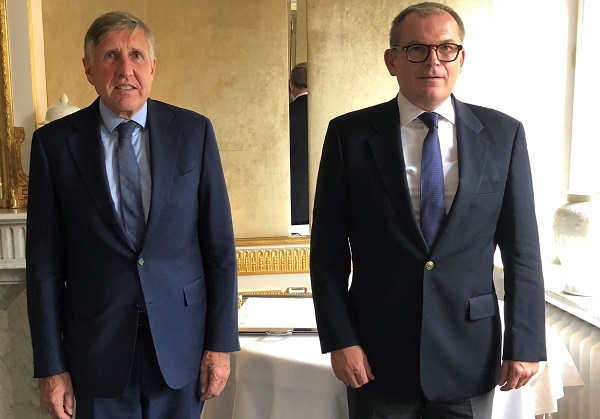 L-R: François Bausch, Deputy Prime Minister, Minister of Defence; Jiří Šedivý, Chief Executive of EDA; Credit: MAEE / Directorate of Defence
On Wednesday 23 September 2020, Luxembourg's Deputy Prime Minister and Minister of Defence, François Bausch, received the new Chief Executive of the European Defence Agency (EDA), Jiří Šedivý, for a working visit to the Grand Duchy.
The EDA is an intergovernmental agency of the Council of the European Union which facilitates the collaboration and development of the military resources of its member states, launches new initiatives in the field of defence and proposes solutions aimed at strengthening the common defense capabilities of the EU. This was the third bilateral visit that the new EDA Chief Executive has made since taking office in May 2020.
During his visit, Jiří Šedivý first received an overview of Luxembourg's defence policy, followed by a presentation of the main outline of strategic and capability planning for Luxembourg defence. The Chief Executive welcomed Luxembourg's collaborative and multilateral approach to defence and praised its "remarkable investments" in areas in which European defence still has significant capability gaps, including aerial logistics, secure satellite communications, earth observations from space and cybersecurity.
In turn, Minister François Bausch praised the active role of the EDA in the creation of a European mechanism for pooling and sharing resources in terms of government satellite communications through a cooperative arrangement (EDA GovSatCom programme) allowing the rapid provision of services between partners and allies.
Another topic on the agenda was the promotion of the principles of the circular economy in the defence sector. Jiří Šedivý expressed his full support for Luxembourg's proposal to promote, through collaboration with the EDA, a new concept in the circular economy developed in the Grand Duchy.
Finally, Jiří Šedivý and his delegation visited the companies SES and LuxGovSat in Betzdorf.