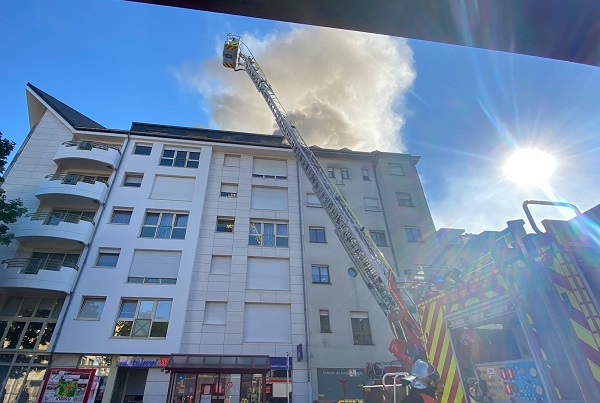 Credit: CGDIS - S. Frisch / A. Ternat
The Grand Ducal Fire and Rescue Corps (CGDIS) has reported that a large fire broke out in an apartment building in Rumelange yesterday evening.
Shortly before 18:00 on Thursday, the emergency services received several calls relating to a fire in an apartment building on Rue Jean-Pierre Bausch in Rumelange.
The first units on site reported a fire on the sixth and last floor of a residence; the blaze had reportedly already spread to the roof and threatened to quickly spread horizontally to adjoining buildings. Residents of the impacted building and its surroundings were quickly evacuated while the operations management centre (Centre de Gestion des Opérations, CGO) was activated.
According to the CGDIS, nearly 100 firefighters successfully fought the outbreak for several hours and under conditions made particularly difficult by the configuration of the premises but also by the strong heat of the day.
A CGDIS health officer was dispatched to the site in order to ensure the good health of the personnel engaged while a team replacement and their supplies were also organised by the CGO. Images taken by the specialty drone allowed the commander of the rescue operations to have a global view in real time of the field of operations.
The fire was declared under control at 00:30 while the final extinguishing work continued overnight.
The incident resulted in one firefighter being slightly injured while several apartments remain uninhabitable.