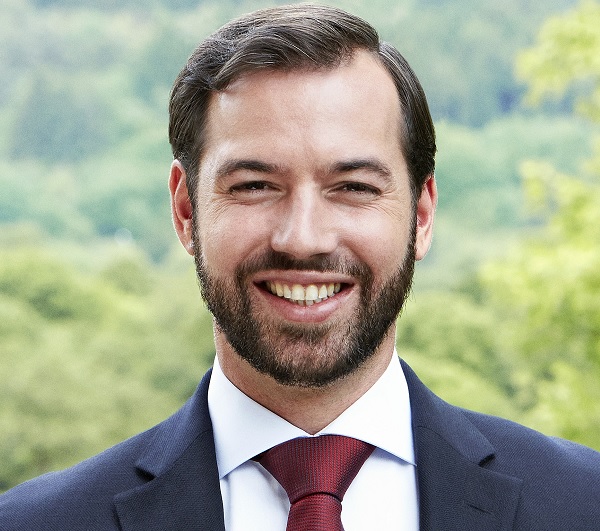 Credit: © Cour grand-ducale / Christian Aschman / all rights reserved
His Royal Highness the Hereditary Grand Duke will celebrate his 38th birthday on Monday 11 November 2019.
Prince Guillaume Jean Joseph Marie of Luxembourg, Prince of Nassau and Bourbon-Parma, first son of Their Royal Highnesses the Grand Duke and the Grand Duchess, was born on 11 November 1981 at the Grande-Duchesse Charlotte Maternity Hospital.
On 18 December 2000, Prince Guillaume was officially appointed "Hereditary Grand Duke of Luxembourg" and, on 20 October 2012, he married Countess Stéphanie de Lannoy who became the Hereditary Grand Duchess of Luxembourg. In 2018 and 2019, Prince Guillaume attended a postgraduate training course at the Royal College of Defence Studies (RCDS) in London, which allowed him to acquire additional expertise in order to assume his future responsibilities.
Prince Guillaume attended primary school in Lorentzweiler and continued his education in the Lycée Robert Schuman until the fourth year of Luxembourgish secondary education. Then he pursued his studies at the Le Rosey Institute and at the Collège Beausoleil in the Swiss Alps, where he passed his French Baccalaureate in 2001.
He then accomplished his Officer training at the Sandhurst Royal Military Academy in the United Kingdom. He was commissioned as an officer of the Luxembourg Army in December 2002 and currently holds the rank of Colonel.
After his studies in international politics in the United Kingdom, Prince Guillaume continued to study those subjects in France; in 2009, the Hereditary Grand Duke graduated with honours with a Bachelor's degree in Humanities and Languages, specialising in Political Science, at the University of Angers.
In 2003, Prince Guillaume completed a traineeship at Union Chimique Belge, where he contributed to the drafting of the company's historical papers. In 2004, his internship at Deutsche Bank in London enabled him to gain substantial experience in international finance. In 2005, the Hereditary Grand Duke took part in various projects in the Spanish branch of steel company Arcelor Mittal.
In 2018, the Miami University Dolibois European Center awarded its highest honorary distinction, an honorary doctorate (honoris causa), to the Hereditary Grand Duke for his commitment to public and social causes.