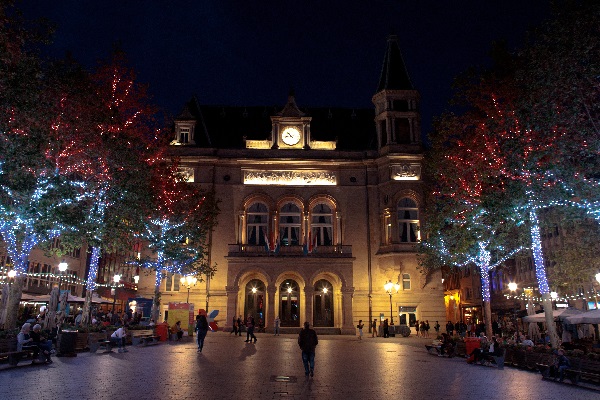 Credit: Photothèque, Ville de Luxembourg / Matic Zorman
Last Friday, a short light show in Place d'Armes in Luxembourg-Ville showcased the possibilities offered by the new lighting composed of more than 40,000 energy-saving firefly-inspired LEDs.
On 21 June 2019, the College of Mayors and Aldermen of the City of Luxembourg inaugurated bright new lighting in Place d'Armes, in the heart of the pedestrian area of ​​the city centre. During a light show lasting a few minutes, spectators were able to discover all the possibilities offered by the new lighting. With a length of more than four kilometres of cables, the new garlands are spread over seventeen trees in the square and aim to give it a welcoming and festive atmosphere.
As all bulbs are connected individually and in real time to a computer and thanks to the RGB technique, the possibilities of light scenarios are many: live animations, light fountains, animated effects, interactive patterns, texts, etc. However, these are reserved for occasional events such as the National Day, during which the square was illuminated in the colours of the Luxembourgish flag, in red, white and blue. During the rest of the year, the lighting will remain more sober and plunge the place into a uniform warm light.
Another particularity of the garlands is the flexibility of the cables, which are extensible and can adapt to a certain extent to tree growth. Break points built into the ropes allow the garlands to "grow" at the same time as the trees and to grow 25% of their original length.
During the implementation of the project, special attention was paid to sustainable management. As such, all bulbs are LEDs with low energy consumption and long life. The project was designed and transposed by several departments of the City of Luxembourg in consultation with the Parks Department.