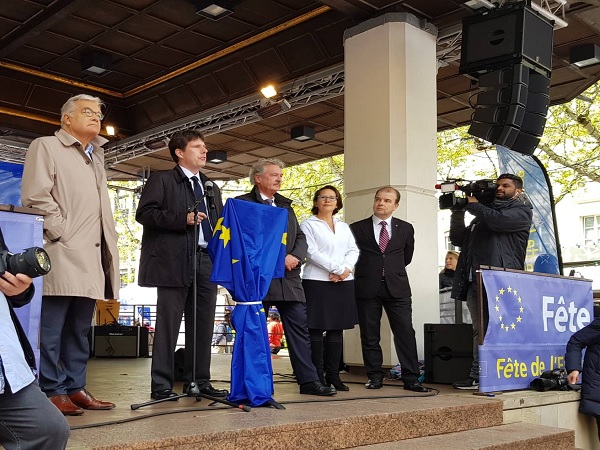 Credit: Jazmin Campbell
Hundreds of residents and tourists alike braved the rain on Thursday to celebrate Europe Day in Luxembourg-Ville, this year a public holiday in the Grand Duchy for the first time.
The crowds gathered in Place d'Armes where they could visit information stands from the different EU agencies and institutions, the various embassies and the political parties standing for the EU elections in Luxembourg. As well as offering information and publications, the stands offered quizzes and games related to the EU, as well as traditional food tastings and freebies such as flags and gadgets.
The jam-packed Europe Day programme included a "European Village", gathering the various embassies of EU member states in Luxembourg, and thematic clusters, bringing together the different agencies and bodies of the EU. Entertainment included a flashmob in front of the Place d'Armes kiosk and traditional music and dances from Romania, Bulgaria, Ireland, Spain, Scotland and Hungary, among others. Visitors were also treated with free traditional meals from Romania, as part of the Romanian Presidency of the Council of the EU.
In the afternoon, the sun came out briefly for Luxembourg Minister of Foreign and European Affairs Jean Asselborn's speech on the importance of nations working together for the future of the EU and Europe. This was followed by the cutting of an EU-themed cake by various Luxembourg politicians, which was then shared with those attending this special event.