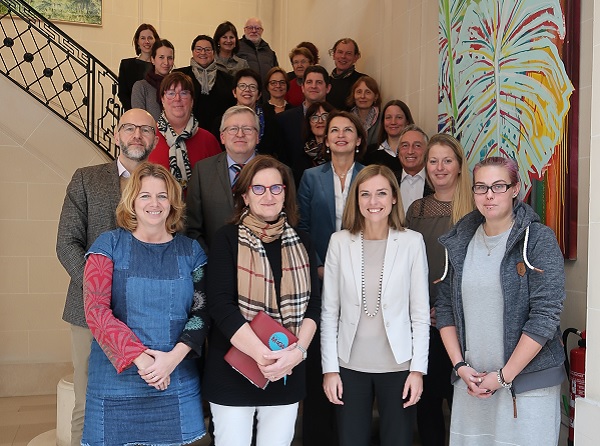 Minister Taina Bofferding with organisation representatives; Credit: MEGA
On Wednesday 6 February 2019, Luxembourg's Minister of Equality between Men and Women (MEGA), Taina Bofferding, met representatives of no less than ten organisations for an in-depth exchange of views on the government's priorities for equality between men and women.
The ten organisations included: Red Cross, Open House House Foundation, Women in distress ASBL, Pro Familia Foundation, National Council of Women of Luxembourg, Act Together ASBL, Inititiav Rem Schaffen, CID-Fraen an Gender, Noemi ASBL and Caritas.
Minister Bofferding pointed out that the MEGA-affiliated organisations "are indispensable, committed and dedicated partners, without which the ministry could not fulfill its social missions in the context of its policy of equality between women and men". The Minister was particularly pleased that their fields of action are very diverse, ranging from the supervision of women and men in situations of acute distress such as violence or trafficking in human beings, to assistance to persons wishing to re-enter the labour market."
"The activities of the contracted sector are a reflection of our society," concluded Minister Bofferding, who also called on managers to rally behind the ministry's efforts to achieve the government's ambitious goals in the area of equality between women and men for the period 2018-2023. This is why she intends to establish a regular dialogue between the ministry and the managers to see themselves at six-monthly intervals to discuss the pressing issues of the contracted sector.