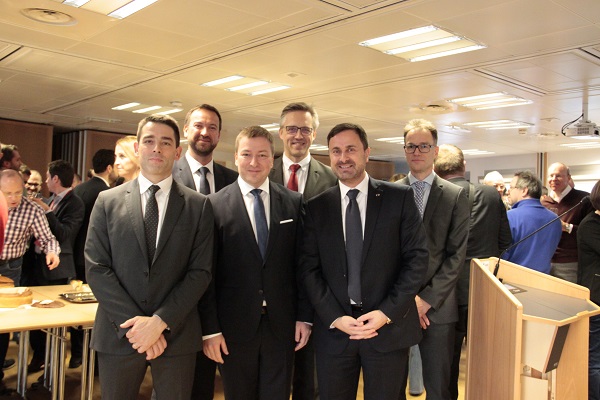 (L-R): Patrick Houtsch, CTIE; Luc Schockmel, Ministry of Digitalisation; Marc Hansen, Minister Delegate of Digitalisation; Gaston Schmit; Xavier Bettel, Prime Minister, Minister of Digitalisation; Nico Majerus, CTIE; Credit: Ministère de la Digitalisation
At the first new year reception of the Ministry of Digitalisation on Wednesday 16 January 2019, Xavier Bettel, Prime Minister and Minister of Digitalisation and Marc Hansen, Minister Delegate for Digitalisation, met with the staff of the Ministry of Digitalisation and of the State Information Technology Centre.
Ministers Bettel and Hansen welcomed the work done in recent years and sketched the outlines of the new government programme in the field of digitalisation and administrative simplification.
The topics of digital infrastructure development, the development and promotion of the information and communication technology (ICT) sector, the provision of innovative digital payment methods and digital inclusion have been thematised.
The digitisation of administrative procedures will be continued and intensified by focusing on the needs of users. The MyGuichet.lu platform and the online services of administrations will be expanded and adapted for more intuitive use. The ministers also announced their willingness to develop the system of "e-tracking", to allow users to constantly monitor the progress of their application to the administration. The goal will always be to achieve a simple, fast and secure electronic exchange with state services.
The two ministers stated that they were delighted to have a competent and motivated team of some 500 people to achieve the ambitious goals of the new government. They expressed their motivation to engage with other members of the government to promote digitalisation for the benefit of all citizens and the country's economy. The establishment of a separate department for Digitalisation by the new government is an unprecedented opportunity to tackle this ambitious challenge and highlights the value given to work in the field of ICT.