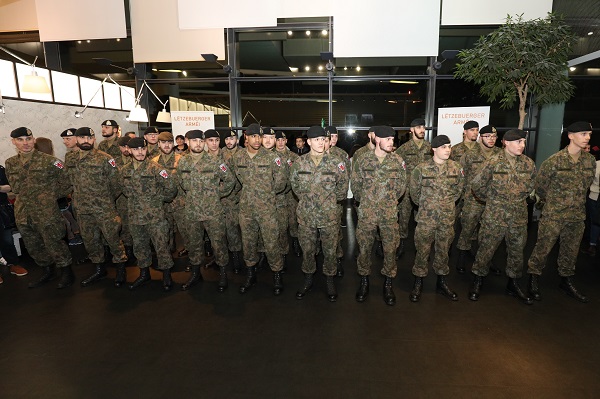 eFP 03 returning from Lithuania; Credit: EMA
On Thursday 13 December 2018, the members of the third contingent of the Luxembourg army "Enhanced Forward Presence" (eFP 03), including an officer, four non-commissioned officers, two corporals and nineteen soldiers, returned to the Grand Duchy after spending four months in Lithuania.
The welcome-back ceremony took place at Luxembourg airport in the presence of the Chief of Staff of the army, General Alain Duschène, as well as family and relatives of member of the contingent.
Following the events in Ukraine, NATO took steps at the Wales Summit in 2014 and the Warsaw Summit in July 2016 to address the security concerns of allies.
In Warsaw, NATO is committed to ensuring a multinational presence on the Alliance's eastern flank. This presence is part of the "Enhanced Forward Presence" which provides for the deployment of a multinational battalion in each of the Baltic countries (Estonia, Latvia, Lithuania) and Poland.
In the second half of 2018, the Grand Duchy took part in the deployment of NATO troops to Lithuania. The Luxembourg army has thus been part of the multinational battalion led by Germany. Comprised of 26 Luxembourgish soldiers, a reconnaissance platoon had been deployed since August 2018 for a period of four months, integrated into a Belgian unit.
The Luxembourg army also provides satellite communication capabilities for the benefit of the eFP battalion in Lithuania.
In 2017, the Luxembourg army deployed a transport platoon for a period of six months, integrated into a Belgian unit.