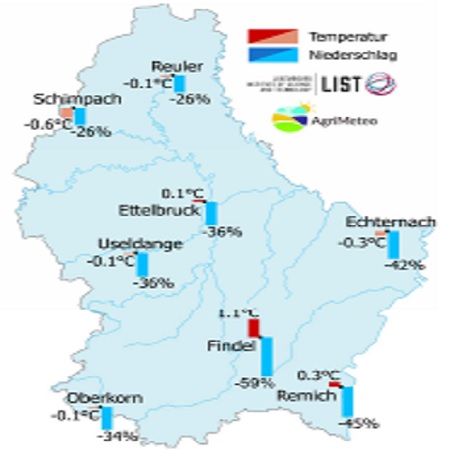 Credit: LIST
The average air temperatures in Luxembourg this Autumn was far too dry at compared to the long-term average, according to LIST's weather bulletin.
The bulletin, developed by LIST, ASTA and MeteoLux, showed that Autumn 2018 was characterised by very warm and dry weather, especially in September and October.
In September 2018, high-pressures largely dominated. Towards the end of September, hurricane "Fabienne" moved across the country, bringing with it very strong winds and heavy rainfall. In October, unusually warm and dry air masses came to Luxembourg on a southern current. Meanwhile, the start and middle of November was also very mild before becoming quite damp towards the end of the month.
The mean temperatures of the season at the evaluated ASTA and MeteoLux stations showed mixed results. The highest negative deviation was measured at -0.6°C at Schimpach (ASTA), while the highest positive deviation was measured at 1.1°C at Findel (MeteoLux) (+1.7°C compared to the 1981-2010 reference period). The maximum air temperature was measured on 18 September at 31.2°C in Echternach (ASTA), whilst the minimum air temperature was recorded at -6.2°C on 3 November in Schimpach (ASTA). The temperatures at the Findel station were often significantly higher than those of the comparable periods in all three autumn months.
The total recorded precipitation at fell far below the values of the comparative period 2001-2010. The lowest deficit was with -26% at the stations of ASTA Reuler and Schimpach. On the other hand, between 30% and 60% less precipitation was recorded at all other stations. The Findel station recorded the lowest value with a total precipitation of 86mm.
Overall, Autumn 2018 was the third driest Autumn since records began at Findel in 1947.