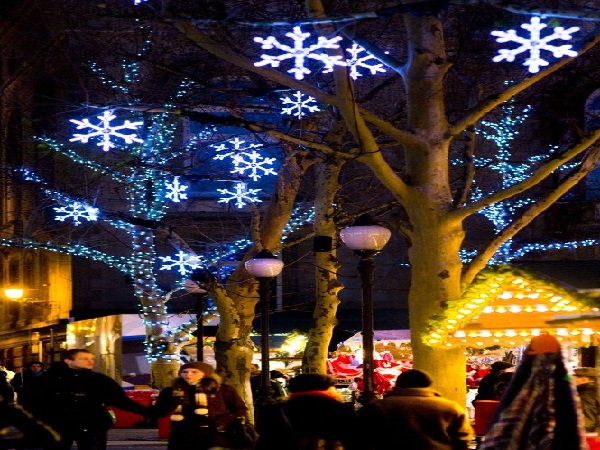 Credit: Visit Luxembourg
With the Christmas season fast approaching, the Ville de Luxembourg's Winterlights 2018 will soon once again transform the capital into a winter wonderland.
As with every year, the city is offering associations and individuals the chance to rent a chalet or reserve a stand at its various markets, including the traditional Christmas markets on Place d'Armes and Place de la Constitution running from Friday 23 November to Monday 24 December 2018.
For those wishing to sell their products and raise money for charity, reserving one of six chalets at the solidarity market at "Roude Pëtz" is the perfect opportunity. The market will run from 23 November to 23 December 2018 in Grand-Rue. A financial contribution of €15/day will be required for the provision of the chalet.
Four chalets will also be reserved for individuals wishing to sell their handicrafts or artistic creations at the Christmas market on Place d'Armes. These can be rented for one or more days subject to availability, for a financial contribution is €25/day.
Similarly, individuals wishing to sell children's toys, clothing or other objects can reserve a table at the second-hand market taking place on Saturday 1 December 2018 from 09:00-17:00 at Salle Victor Hugo (60, avenue Victor Hugo, L-1750 Luxembourg-Limpertsberg). The participation fee is €5 for a table and two benches (one location per person). The following day, on Sunday 2 December 2018 from 09:00-17:00, the Salle Victor Hugo will also be hosting its Winter garage sale where individuals will be able to sell items from their own household that they no longer need. The participation fee is also €5.
From now on, the reservations of chalets or stands at these markets can be made at the Service des fêtes et marchés (Mrs Marie-France Lamesch) either in person at Petit Passage, 9, Chimay Street from Monday-Friday between 09:00 and 12:00 or by appointment, via tel.: 4796 - 4299 or email: mflamesch@vdl.lu.
The participation fee is to be paid in advance when visiting the Service des fêtes et marchés.