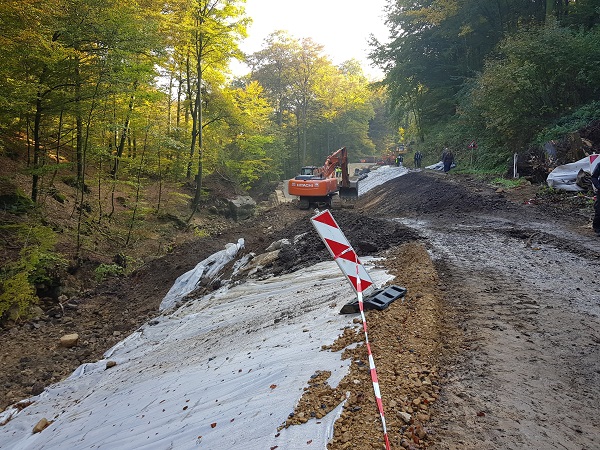 CR364 Echternach-Berdorf; Credit: MENA
Following the damange caused by torrential rain and substantial flooding in the Mullerthal region of Luxembourg in early June, repairs are ongoing to the region, including to the CR364 linking Echternach and Berdorf which has been to closed to traffic ever since.
On Wednesday 10 October 2018, François Bausch, Luxembourg's Minister for Sustainable Development and Infrastructure, and Carole Dieschbourg, Minister for the Environment, carried out a follow-up visit to the Mullerthal region.
The work carried out on the CR364 have made good progress thanks to the good coordination between the administrations in charge of the reconstruction works, namely the Administration des Ponts et Chaussées, the Water Administration and the Administration of Nature and Forests.
To obtain a lasting solution, a financing of €8 million was essential for the reconstruction of the road following damage of this scale. The end of the work is scheduled for summer 2019.