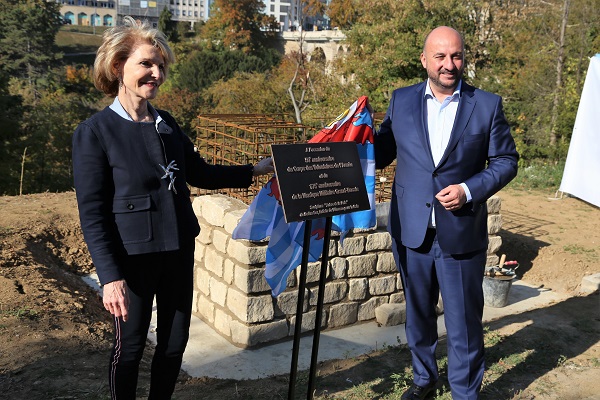 Monument foundation stonee ceremony; Credit: EMA
On Wednesday 10 October 2018, Luxembourg's Deputy Prime Minister and Minister of Defense, Étienne Schneider, laid the foundation stone for the 50th Anniversary of Volunteering with the Army and the 175th Anniversary of the Grand Ducale Military Band. The ceremony was held in the presence of General Alain Duschène, Chief of Staff of the Army, and the Deputy Chief of Music of the Military, Captain Christian Kirpes.
Located at the Place du Metz in Luxembourg-ville, the monument is decorated with the sculpture "Tree of Peace" by artist Hedva Ser, Goodwill Ambassador and UNESCO Special Envoy for Cultural Diplomacy, to illustrate also the importance that the Luxembourg Army has given since 1991 at the international level to participation in various missions abroad, including the various peacekeeping missions.
The sculpture calls for understanding and peace between peoples by integrating with the symbolism of the site and its surroundings, the Avenue de la Liberté, associated with the liberation of 1944, and the Spuerkees Building which was the first seat in 1952 of a pacified Europe in the guise of the European Coal and Steel Community (ECSC).
The installation of the sculpture "Tree of Peace" is scheduled for spring 2019.