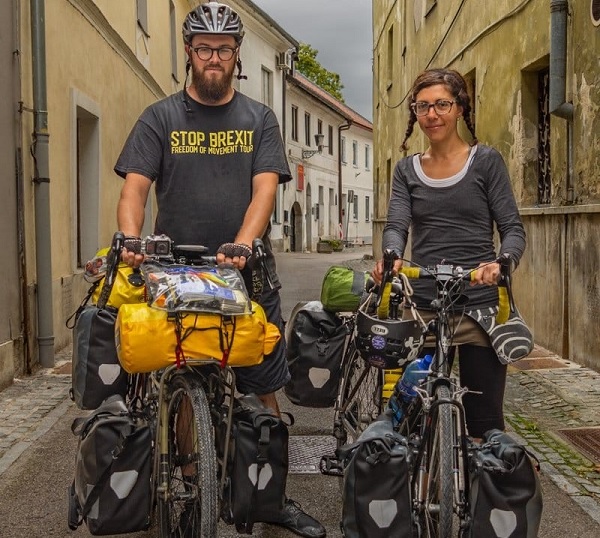 Alexander Colling and Chiara Ginestra; Credit: pictureofeu.com
Last April a young couple set off from the UK with the mammoth purpose of touring by bicycle the 28 European Member States in protest against Brexit; yesterday, five and a half months later, Alexander Colling and Chiara Ginestra have reached Luxembourg - their 24th country.
Alex, a British citizen, and Chiara, originally from Italy but in the UK for 9 years, define themselves a European couple. Alex said "We have two different passports and nationalities, but thanks to freedom of movement - one of the 4 freedoms of the EU - we got to know each other and be together. Now, Brexit threatens our future both as a couple and individually in different, almost opposite ways. While Chiara may suddenly become an illegal migrant in the UK with no right to reside and work, I may be denied this right in 27 other countries, including Chiara's birth country where her family is still based."
Chiara added "We were gutted after the referendum results came out, we felt our lives were going to change without remedy. And they did, and they will do. 2 years and a bit on, and only 6 months to Brexit day, we are still kept in a limbo of uncertainty where, for example, I am not able to regularise my position as no system is in place yet, and every day contradictory information is released on this. What is more, the Brexit vote was tainted with xenophobia and fuelled by a 'hostile environment' promoted by the British government. Many of my fellow European citizens have been physically attacked and insulted, families have been split and some of my friends have left in fear for their safety. This is not the UK I came to, it is no longer a welcoming place. And it saddens me so much that the only positive thing I could do is cycle. Cycling from one place to another is what we do normally, now cycling is also our grieving process for the life we once had and perhaps we won't have anymore".
Alex and Chiara's journey across Europe is a celebration of European rights, it's a symbolic protest, and a statement that Brexit should be stopped as it has no tangible benefits for anyone.
"During our trip we managed to connect with many other people affected by Brexit. If there is any good in this it is knowing, feeling, that at least we are not alone" said Alex.
In their blog and social media pages - see fomtour.tumblr.com, www.facebook.com/fomtour, @fomtour, they recount their journey, their mostly easy border crossings, and also the difficult times. "We are almost at the end of our journey now. It's turned out a bit different from what we thought initially" said Alex. "For example we ended up going through Serbia, a non-EU country in a too convenient position between EU countries to be missed out, but unfortunately we had to skip Malta and Cyprus. We are not sponsored by anyone, we are only relying on our savings for only 6 months, and we didn't want to fly. Some parts of Europe are just too peripheral, and this has made us reflect on how distances, geographical barriers and availability of transport can hinder knowledge and cooperation between different countries and cultures".
Chiara added "We are so happy to have done this. We wanted to know Europe, and we did. We cycled through former borders, like the Berlin Wall and the Iron Curtain. 50 years ago we probably could have not done this easily. And the problem is that we are not sure we or anyone will be able to do this again in the future. Xenophobia and separating tendencies seem to be surging again across Europe - also in Luxembourg we saw many anti-immigration propaganda. People like us were born in the peace the European Union has contributed to create, but we should never take our rights and privileges for granted. We should preserve them, share them, and ultimately fight for them".