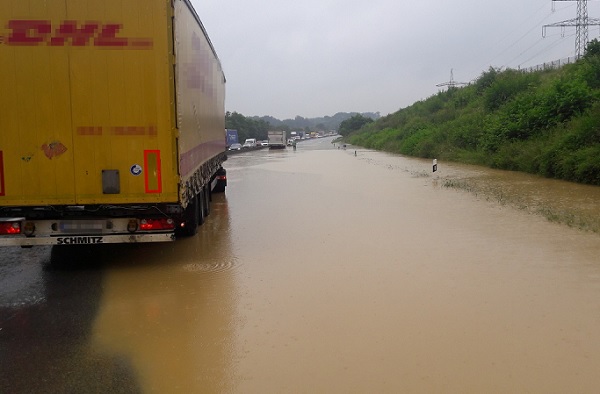 A3 motorway flooded; Credit: Police Grand Ducale
The Grand Ducal Police have released an update regarding the results of Monday afternoon's thunderstorms which flooded part of the A3 motorway, with torrential rain making it impossible for traffic to pass from around 16:00.
By 20:00, one lane of the A3, in the direction of France, was reopened to traffic; meanwhile, a clearing-up operation is still underway and is expected to take a number of hours.
The Aire de Berchem was the first area to be hit, at around 16:00, with a 200m stretch of motorway flooded. As a result, the traffic police closed access to the A3 from both the A1 and the A6, with deviations routed towards Schengen along the A13.
Representatives of a number of organisations were called out, including the traffic police, the Administration des Ponts et Chaussées, as well as the emergency fire services who were engaged in trying to displace the mass of flooded water and which in turn had brought a layer of mud onto the A3 motorway surface.