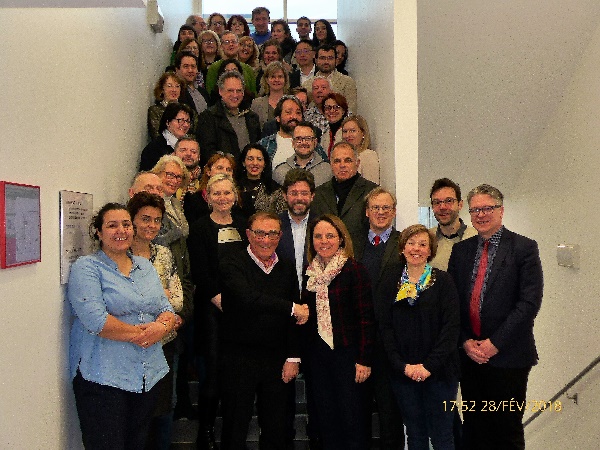 L-R: Franco Avena, President of the CNE; Corinne Cahen, Minister of the Family and Integration; Claire Geier-Courquin, vice-president of the CNE; Yves Piron, Director of the OLAI; CNE members; Credit: Franco Avena, CNE
On 28 February 2018, the newly formed National Council for Foreigners (CNE) met in plenary session in the presence of Corinne Cahen, Luxembourg Minister of Family and Integration.
In her speech, Corinne Cahen congratulated the CNE for its renewal and encouraged members to work actively on integration issues. She also underlined that the CNE is an independent body, charged with giving objective opinions so that Luxembourg can remain a model country in terms of integration.
In the framework of the plenary meeting, it was decided to set up six permanent commissions to work on the priority themes identified by the presidency: liaison with the Municipal Integration Advisory Commissions; migrants and border workers; refugees and International Protection Applicants; youth, education and higer education; civic participation and liaison with associations; senior citizens. The creation of temporary working groups around specific themes was also decided.
Before the meeting, the new presidency of the CNE, represented by Franco Avena, President, and Claire Geier-Courquin, Vice-President, met twice with Yves Piron, Director of the Luxembourg Office for Reception and Integration (OLAI), to agree on the operating modalities and the support that the OLAI can bring to it.
The Presidency underlined its desire to create a climate of trust and transparency between the members and to ensure good relations with external bodies and the OLAI.