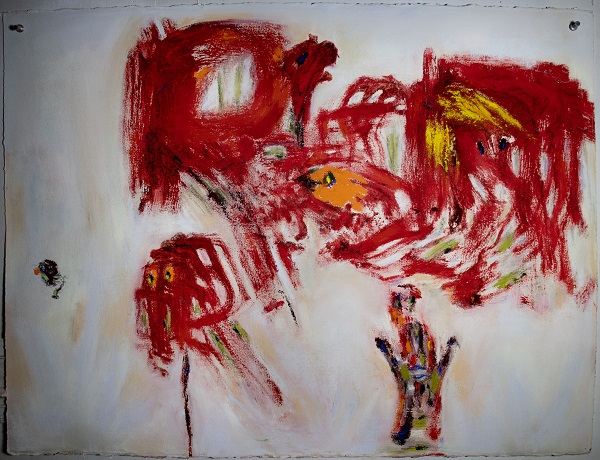 Credit: Pierre Joris & Nicole Peyrafitte
Galerie Simoncini has announced that it will be hosting a live performance by Luxembourg-American poet Pierre Joris and his artist wife Nicole Peyrafitte at its premises in Luxembourg-Ville (6 Rue Notre Dame, L-1648) on Thursday 15 July 2021 at 18:30.
This upcoming performance marks the end of the exhibition-event "Karstic Actions / Works", which began on 5 June 2021, as well as the end of the season for Galerie Simoncini.
"Karstic Actions / Works", domopoetic creations by Pierre Joris and Nicole Peyrafitte, was one of the highlights of this artistic spring in Luxembourg. Inaugurated with a remarkable action painting, it will end with a live performance with the young gifted Colin Toniello on the piano next Thursday evening.
This last live performance is an opportunity to (re)discover the poetic, political, ecological commitment of these two artists, one a poet, essayist and translator, the other a visual artist, filmmaker, singer and performer, who rely on each other and whose works mingle, feed on and merge, driven as they are by a "time / space / species reflection" which follows an authentic and rich daily life fuelled by words, images and sounds.
To confirm your attendance, contact Ms Anders via tel.: 475-515 or via email: simona@pt.lu. For further information, visit www.galeriesimoncini.lu.