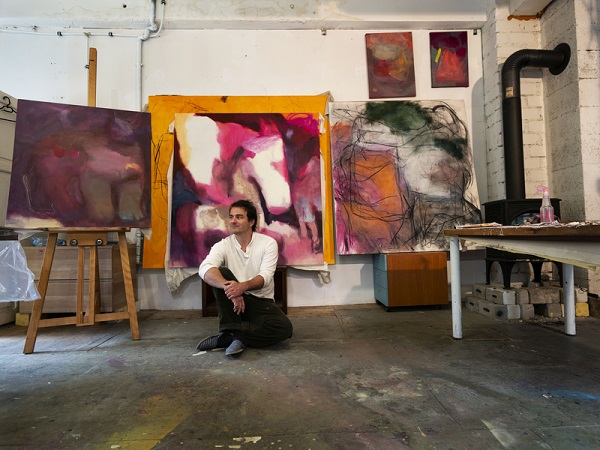 "Espace et désir" by Álvaro Marzán Díaz; Credit: neimënster
Álvaro Marzán Díaz, who is currently an associate artist at Neumünster Abbey (neimënster), will be presenting his exhibition "Espace et désir" (Space and Desire) at neimënster in Luxembourg-Grund from 9 July to 28 September 2021.
"Espace et désir" is an exhibition on the universal search for identity, the intrinsic need of human beings to understand their own nature and to question the ultimate meaning of what surrounds them. It is from a deep commitment to painting and contemporary creation that Spanish artist Álvaro Marzán Díaz offers a bridge between the physical and metaphysical worlds.
Space and desire are the two facets of perception and creation. Álvaro Marzán Díaz fully measures the emotional potential conveyed by colours, a means of expression that the artist explores with discernment. Colour allows him to structure and arrange volumes. By changing the chromatic balance, Álvaro Marzán Díaz transforms the light and atmosphere of his works and opens up new possibilities.
Rather discreet and observant in character, Álvaro Marzán Díaz does everything he can to "break free from everyday life" in order to create paintings that go beyond the visible. From the dreamlike nature of his small formats to his large compositions in gaudy tones, the artist invites the public on a journey into unsuspected pictorial dimensions. His approach is contemporary while being part of a return to the so-called "classic" pictorial technique. He works on canvas using mainly oil paints.
The exhibition opening will take place on Thursda y 8 July 2021, from 18:00, in accordance with the CovidCheck regime. Entry is free but reservation is required via email: contact@neimenster.lu. The exhibition will then run from 9 July to 28 September 2021, from 10:00 to 18:00 daily.
Álvaro Marzán Díaz's workshop at neimënster is open to the public every Sunday from 10:00 until 13 August 2021.