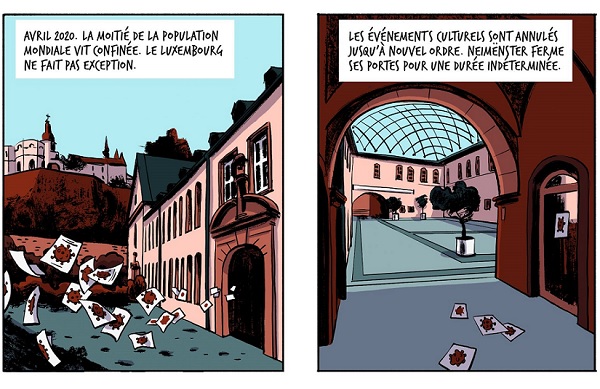 Abbaye de Neumunster history cartoon; Credit: copyright Antoine Grimée
The Luxembourg cultural scene is suffering the full brunt of the consequences of the spread of COVID-19; the Abbaye de Neumunster (neimënster) has announced that as a way of supporting local artists, it is publishing a weekly comic strip starting today, Saturday 25 April 2002, that traces its turbulent history.
Its author, Antoine Grimée, is not a stranger to the neimënster audience who were able to discover his work through his portraits and the visual identity of the RESET residence and jazz festival, as well as the visual identity by Bock op…, the neimënster summer programme.
Since 14 March 2020, the neimënster site has been closed to the public to combat the spread of COVID-19. Starting from this exceptional situation, Antoine Grimée will offer the public a weekly comic strip which traces the history of the Abbey, from the founding of the Abbey of Altmünster monastery in 1083, to its use as a state prison until 1985, through its assignment as a transit zone for thousands of resistance fighters locked up by the Nazi police during the Second World War.
A new strip will appear every Saturday on neimënster's social networks for a period of 25 weeks, until neimënster Open Day on 17 October 2020. Thanks to this initiative, the designer wants to present a confined play to the confined populations, allowing to break the isolation and the boredom which can weigh during the period of confinement.