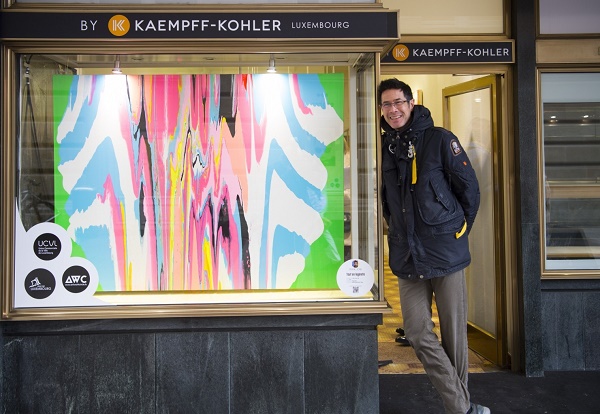 Frank Jons, Art of the Street initiative; Credit: Charles Soubry, Copyright Photothèque VdL
Following the launch of the "Art on the Street" project in October 2018, the initiators of the project - the Ville de Luxembourg, the Shopkeepers' Union (UCVL) and the Art Work Circle online art platform - are once again presenting a series of artistic works in a temporarily unoccupied commercial spaces in the city centre.
From Friday 11 January to Saturday 12 January 2019, the painter Frank Jons is in the spotlight: several paintings of the artist are to be discovered at No. 10 rue du Curé (Friday January 11 and Saturday 12 January from 11:00 to 13:00, free admission). Beyond this period, the paintings of the exhibition will be showcased in the windows until the commercial premises have a new tenant.
An evolutionary project
Art lovers will take the opportunity to discover all the other works of the evolving project "Art on the Street" - the website www.artonthestreet.lu allows one to locate all commercial premises that participate in the project and which are decorated with paintings, photographs or other works. Currently, the series includes a silkscreen by Mik Muhlen, a photographic work by Christian Wilmes, an acrylic painting by Armand Strainchamps and an oil painting by Chantal Maquet.
Valuation of businesses and promotion of artists
The "Art on the Street" project consists of the exhibition of works of art in the windows of temporarily vacant commercial premises in Luxembourg city, notably in the city centre and the Gare district.
Through this project, the City and its partners are aiming to highlight the businesses that are empty and available for rent, thus creating a new dynamic among retailers, as well as the promotion of artists from Luxembourg and the Greater Region, providing them with a platform of visibility. Also, all the exhibited works can also be acquired via the website www.artworkcircle.lu.
Participation in the project
In order to gradually increase the number of art works to be discovered in shop windows and to promote pedestrian and shopping streets, the Ville de Luxembourg invites the owners and promoters of temporarily vacant commercial premises in Luxembourg city to participate in the "Art on the Street" initiative.
See www.artonthestreet.lu and www.artworkcircle.lu for further details.