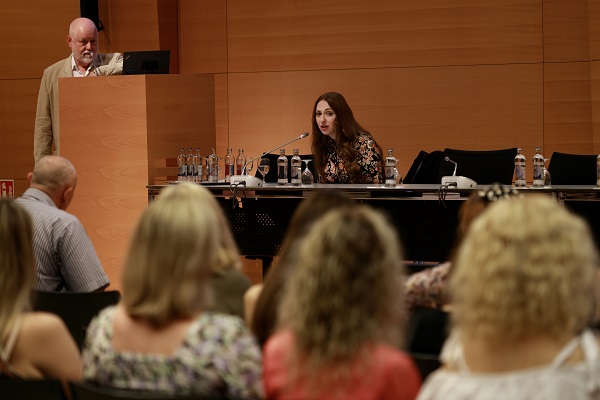 L-R: Paul Schonenberg, AMCHAM Chairman & CEO; Sabina Mammadova, course presenter; Credit: Ali Sahib
On Saturday 18 June 2022, the American Chamber of Commerce in Luxembourg (AMCHAM) held its fourth Newcomer Orientation Course in Russian at the Luxembourg Chamber of Commerce in Luxembourg-Kirchberg.
This orientation course is aimed at Ukranian nationals who have been displaced from home as a result of the Russian invasion on 24 February and the continued war in their country; currently, around 5,500 Ukrainian nationals have arrived in Luxembourg and almost 400 attendees have now received this training.
AMCHAM members, Bakhtiyar Mammadov and his wife, Sabina Mammadova, both originally from Azerbaijan, are delivering this course.
Chronicle.lu caught up with Sabina and asked her about the course.
Chronicle.lu: Please describe the course that you are presenting, when it is being held and in what language. Also, did you design the course or adapt it from another model?
Sabina Mammadova: This course is a great tool helping newly arrived Ukrainians adapt to Luxembourg and get to know the country in a short time. During the Summer 2018, Bakhtiyar and I ran an orientation course for newly arrived expats in the Russian language, an initiative of AMCHAM Luxembourg, and this learning activity was a part of AMCHAM`s language courses for newly arrived expatriates also held in English, Portuguese and other languages. Newcomer Orientation Courses were delivered for the first time in Russian to a group of expatriates who [had] at that time moved to the Grand Duchy to live and work mainly from CIS [Commonwealth of Independent States] countries and this is the only language where representatives of more than ten nationalities can speak to each other.
Then following unfortunate incidents happening in the geopolitical arena since February this year and so many families are affected with an impact of the war, I approached Paul [Schonenberg; Chairman and CEO of AMCHAM] with the idea to spread this to newly-arrived Ukrainians. As I have structured these courses tailor-made for the CIS environment, at first I thought all I have to do is to modify slides I prepared for the 2018 courses as it's 2022 outside and statistics change, new regulations are made. But the more I am engaged with Ukrainians living under temporary protection status, the more I understood that these are people whose intention [was] not necessarily to change their life as they had nice homes, jobs, businesses in Ukraine and, all of a sudden, they have lost all they had. Therefore, the courses I have re-structured to adapt to their current needs, as you would be surprised how pleasant it is to speak to highly-educated individuals with an entrepreneurial spirit which most of attendants are. It is a great pleasure to further motivate them that they can re-start again and that they have relocated to the best country in the world that allows your dreams come true provided that you have to follow local rules and regulations. We initially started delivering these courses every weekend, but then switched to a twice-a-week basis.
Chronicle.lu: How many people attend the course? And who is attending? What is the gender ratio? And the age range of attendees? Have they all run their own business before?
Sabina Mammadova: Usually we have about 100 people attending each time. Gender ratio is starting from single individuals, families with children to include their grandparents and elder people with or without partners. It is almost half / half, and taking into account that it is not easy for the male population to leave Ukraine at this moment due to mobilisation during war, the increased number of females prevailing is almost at all times being equalled by the elderly. When it comes to age, we have toddlers, teenagers and representatives of the younger as well as older generation. Attendees include students, teachers, doctors, lawyers, sport club executives, scientists, business owners with some unfortunately affected as they had hotels, restaurants, salons, design companies, tourism agencies. While we met with some of the incredible participants with a high level of entrepreneurship mindset, we also have participants working in EU-based international companies and, due to the situation in Ukraine, their companies decided to open their doors to workspaces with their offices located in Luxembourg.
Chronicle.lu: What topics are you covering? And who presents which topics?
Sabina Mammadova: We have topics about Luxembourg, its languages, history, geography, politics, municipalities, festivals, country-specifics, cultural aspects. Also we are covering such topics as taxes, steps of opening a business, how to find a job through ADEM, how to register a car, how to change a driving licence, healthcare, real estate, education, etc. Most topics are presented by me, Bakhtiyar answering questions about how to receive a business license, what are the required documents, verification of diplomas, advantages of living in Luxembourg. For example, one of the most comforting aspects of living in Luxembourg is the feeling of safety. We also highlight to them [the] high quality of living, and that Luxembourg has a top ranking not only for safety, but also due to the political and economic stability of the country. Other topics we cover include Luxembourg's attractive employment market, fertile business environment and the country's excellent telecommunication infrastructure, multilingualism, which is the norm in Luxembourg, efficient healthcare system, good education model, strategic location and easy access as well as easy naturalisation process.
Chronicle.lu: What are the main questions you are asked in the course?
Sabina Mammadova: The main questions are how to register a car and how to change a driving licence, how to find a job / open a business, how to pay taxes, then we have a lot of questions about real estate, schools, etc., and getting authorised to perform business activities in the Grand Duchy.
Chronicle.lu: From a financial perspective, is anyone being paid to deliver the course? What about the venue rental and lunches?
Sabina Mammadova: This course is a project Bakhtiyar and I are doing purely on a volunteer basis, therefore we do not have expectation that we will get paid for this. We are delivering these courses with one thought in our minds: that this will change the life of many families or single individuals for the better. The most satisfaction we get in our lives is when we know that we have navigated people in the right way. Testimonials we have received from course participants testify to this fact. The Chamber of Commerce is providing premises and an auditorium as a venue where we are delivering courses and a number of sponsors have been involved to deliver lunches for everyone who have participated in the course. AMCHAM's leadership is important and vital as this would not happen without Paul Schonenberg's personal engagement. It is very kind of him to give every course participant a free membership into AMCHAM that includes member to member card. During participants' registration before courses are delivered, we are giving them these cards. The purpose of this discount programme is to create win-win deals for our members and its partners; together we can make the difference in rebuilding the economy in Luxembourg after a long period of lockdowns and online shopping. Ukrainians get immediate discounts in the partner shops in Luxembourg and they appreciate it so much given that we are allowing them to save a bit during their purchases in Luxembourg.
Chronicle.lu: When the course is finished, does AMCHAM's involvement stop there? Or do you guide course participants to other organisations which can "take it from there"?
Sabina Mammadova: No, AMCHAM's involvement does not stop after the courses are finished. In fact, I am creating a committee specifically focusing on Ukrainians relocated to Luxembourg on a temporary protection or refugee status, so the end of courses is the beginning of a lifelong journey of continuous support, problem solving, compassion and results-driven collaboration. Thanks to these courses, AMCHAM and we are giving hope and courage to so many families. If there is something we cannot solve, be assured that everyone is properly guided to other organisations. One of the things we are doing is that, after each course, we update slides in a way that we reflect questions we receive during the course. So, every course becomes unique, as every participant has questions. I appreciate the fact that every course contains coaching sessions from AMCHAM leadership that adds additional value to the course. [There is] sincere feedback coming from many affected families. The value and impact from the course is so obvious, especially when some of the course attendees approach me with tears in their eyes about the impact and the valuable information they receive during each session.