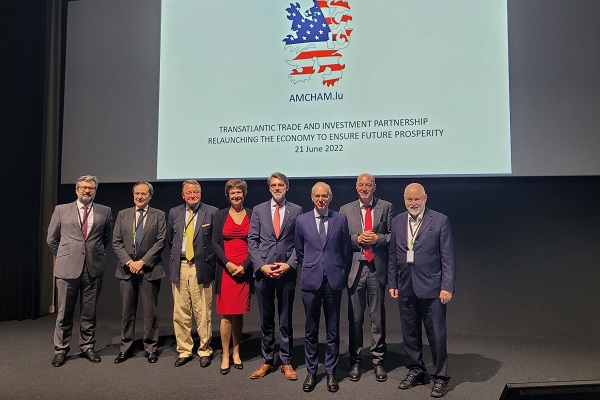 Credit: Jazmin Campbell / Chronicle.lu
On Tuesday evening, the American Chamber of Commerce in Luxembourg (AMCHAM), together with Deloitte and the New York-based Luxembourg American Chamber of Commerce (LACC), held an event dedicated to the transatlantic trade and investment partnership at Deloitte's premises in Cloche d'Or.
Around 80 guests attended this event in person, including several Ambassadors to Luxembourg, with another 40 joining online from the United States (US).
In his welcome address, John Psaila, CEO of Deloitte Luxembourg, highlighted the "very clear economic benefits derived from globalisation". He noted the impact of recent events such as the COVID-19 pandemic and the war in Ukraine, which have led to some people questioning the endurance of transatlantic relations. However, he emphasised the need to strengthen and modify the bridges that have been built on the global stage since the Second World War to ensure they are able to face the realities of today.
Master of Ceremony Paul Schonenberg, who has been Chairman and CEO of AMCHAM for almost 24 years, presented the Luxembourg perspective, namely its successful economy which has been earned through "hard work" but also through "having friends", such as the US. He highlighted the historic ties that bind these two countries, from the emigration of a significant number of Luxembourgish families to the US, in search of a better life, in the 19th and 20th centuries to the sacrifice of American soldiers in the name of freedom during the Second World War and the role of the Marshall Plan in relaunching the economy of Western Europe, including that of the Grand Duchy, following this war. He noted that today, Luxembourg has developed a strong financial sector, in part due to US investment; similarly, many Luxembourgish individuals and companies have invested in the US. He added: "America has been a significant, strong and powerful friend for Luxembourg for many years"; in return, the US views Luxembourg as "a strong leader in Europe with which it is proud to have a friendship". He described this relationship as mutually beneficial.
Trade as an instrument of growth, change, access to raw materials and building bridges
Mr Schonenberg went on to introduce the keynote speaker, Luc Frieden, Chairman of the Luxembourg Chamber of Commerce, President of Eurochambres (the association of European Chambers of Commerce and Industry) and former government minister, who has several ties to the US himself: a graduate of Harvard Law School, Mr Frieden also visited the US several times in the past in his capacity as government minister. In his keynote, titled "The importance of free and fair trade for Luxembourg", he first emphasised that he had long thought of the US as an ally which "shared most if not all the fundamental values" of Luxembourg. He lamented that it had taken the war in Ukraine to bring the two nations closer together again, or at least to remind them of what they have in common – fundamental values which also play a role in trade. He went on to highlight trade as an instrument of growth, an instrument to change and improve the lives of people, a way of getting access to raw materials and its role as a "bridge builder". In a small country like Luxembourg, trade with other countries has been particularly important and the fact that it was a founding member of all international organisations has been the "key to success".
Concerning growth, Mr Frieden stressed the importance of the European single market as well as reliable partners such as the US. In terms of improving people's lives, he noted how free trade agreements had a positive impact in creating jobs and improving standards of living, as well as improving trade in general. He also mentioned "Realpolitik" in the context of using trade to get access to raw materials that are not available in Luxembourg or in the European Union (EU). "Good economic relations give us access to these materials", said Luc Frieden, adding that the war in Ukraine and energy crisis had reminded us of this. Finally, he spoke of trade as a bridge builder, both for Luxembourg and the EU as a whole, stressing the need to sometimes also do business with countries with which we may not agree on everything. However, this has certain limits, for instance he deemed it "unacceptable" to do business with a country that starts wars and attacks other independent sovereign countries. Outside of the war context, however, he did not see the value in excluding or imposing sanctions on certain countries, noting that sanctions in such contexts have so far "not led to regime change".
As for implementation, he lamented that the EU had not secured more free trade agreements, saying that he understood people's concerns over the proposed (and failed) Transatlantic Trade and Investment Partnership (TTIP), for instance, but that it was a matter of deciding whether we are better off with or without such agreements. In his opinion, we would be better off having them. He added that it was important to seize the opportunity of having a US President who supports multilateralism to strengthen this transatlantic relationship.
AmCham EU and AmChams in Europe
The evening continued with a presentation by Susan Danger, CEO of the American Chamber of Commerce to the European Union (AmCham EU) and Chair of AmChams in Europe. She began by presenting both networks: the former represents more than 160 American companies invested in and connected to Europe and has two overarching objectives, namely to build a stronger, more united and competitive EU (like Luc Frieden, she emphasised the importance of completing the single market) and to strengthen and maintain the transatlantic relationship; the latter is the umbrella organisation for 46 independent American Chambers of Commerce from 44 countries in Europe and Eurasia, including Luxembourg, and represents the interests of more than 17,000 American and European companies employing 20 million workers.
Ms Danger went on to present four broad messages: firstly, she strongly condemned Russian aggression against Ukraine on behalf of Europe's American chambers of commerce; secondly, she presented the challenges currently facing EU countries as witnessed by these chambers of commerce, namely inflation, food security, supply chains and COVID-19 – similar challenges to those being faced on the other side of the Atlantic – noting that before the war in Ukraine, these chambers of commerce had committed themselves to the economic recovery and the green and digital transition, as well as focusing on the single market and the implementation of EU legislation; thirdly, from the transatlantic point of view, she praised the great collaboration between the US and the EU, highlighting that they had more in common than they had differences and, like Mr Frieden, viewing the Biden Administration as a "window of opportunity" for strengthening this relationship. She added that the American chambers of commerce in Europe supported the new EU-US Trade and Technology Council (TTC) forum to discuss legislative and regulatory changes, although it did "not replace" the TTIP. Nevertheless, the business community still demands greater transparency and stakeholder engagement, roadmaps outlining deliverables, prioritising outcomes with concrete impact and ensuring that all parts of society are informed; at the global level, she stressed the need for cooperation and resilient supply chains in response to trade disruptions and that it was necessary to work with allies like the US without becoming protectionist. "The EU must remain outward-looking and open to trade", she said, adding that it was necessary to explain the benefits of global trade (creation of jobs, how citizens benefit), thus learning from the failure of the TTIP.
Susan Danger then referred to the 2022 Annual Transatlantic Trade analysis, which was completed once again this year in partnership with Daniel S Hamilton and Joseph P Quinlan and in collaboration with AMCHAM in Luxembourg, the US Chamber of Commerce and the American Chambers in Denmark, Finland, Greece, Ireland and Sweden.
Pain and resilience: the transatlantic economy 2022
Daniel S Hamilton, Senior Fellow at the Johns Hopkins University SAIS Foreign Policy Institute (FPI) and former Director of the Global Europe Program at the Woodrow Wilson International Center for Scholars, joined the event virtually for an analysis of the 2022 annual transatlantic trade data. He first highlighted some of the "pain points" in 2021, such as COVID-19-related uncertainties, Russia's war on Ukraine, energy prices and sources, inflation, congested supply chains and the potential direction being taken by China. However, he remained optimistic that the EU and the US were coming from a position of strength: "The US and Europe are each other's resilient geo-economic base", he stated in his presentation, noting that the two countries were each other's most important commercial partner ($6 trillion in commercial sales a year). In fact, 2021 was a record-breaking year on many fronts for this partnership, with all-time high figures for transatlantic trade in goods, which reached $1.1 trillion, for example. He also stressed that contrary to what is often portrayed in the media, China is not the EU's main trading partner; such reports only look at goods rather than the services, jobs creation digital connections, investment flows and innovation which the US and the EU share. The US and Europe are also each other's most important partners in the transatlantic digital economy, which is particularly interesting for a services economy like Luxembourg. "We are going to remain global rule-setters, be inclusive innovators for new economic models (clean tech and the digital space) because we are so far ahead", he added, noting also that the US and the EU have vigilant / resilient economies and an affirmative values-based partnership. Like Luc Frieden and Susan Danger, he stressed the need to make the TTC understandable to the public.
Taking Luxembourg-US trade relations further
Following an impassioned statement from Paul Schonenberg about making the world a safer place in our role of rule setters and setting the standards of excellence we wish to achieve, the Chargé d'Affaires at the US Embassy in Luxembourg, Casey Mace, described the evening's presentations as cause for optimism that this transatlantic relationship can go even further. He noted that Luxembourg in particular serves as a platform and a driver for expanding broader trade and investment relations with the US, adding that governments need to work together to enable more trade, rather than creating barriers. He highlighted the creation of jobs in both countries (about 20,000 supported by the US in Luxembourg and vice versa), emphasising in particular the steel industry, services and newer sectors such as space, in which technology is key. He also mentioned the "rediscovered" areas of cooperation that are climate and energy, highlighting Luxembourg's pioneering role in green finance, for example.
The final speaker of the evening, Gilles Bauer, Chargé d'Affaires at the Embassy of Luxembourg in Washington, spoke virtually about the "very solid foundation" that exists for US-Luxembourg trade. He also noted that the last few years had shown that cooperation was crucial, what with the COVID-19 pandemic, supply chain issues and Russian aggression against Ukraine. "Now it becomes very obvious that everything is interlinked", he explained.
Paul Schonenberg concluded by emphasising that AMCHAM in Luxembourg was proud to be a part of the European "family" of American chambers of commerce, which he described as a "source of strength, guidance and [a] good family that goes ahead and gets things done". That being said, there is a lot of work ahead, not least in helping the public better understand the benefits of the TTC. He suggested that we use this event in Luxembourg "as a spark for a bigger flame", before presenting Susan Danger, Luc Frieden and Casey Mace with Luxembourgish flags which had been flown over the Moselle river in AMCHAM's recent historic trip to Spangdahlem Air Base in Germany; these flags serve as a reminder that this is all "bigger than little Luxembourg".
The event ended with a networking cocktail reception.