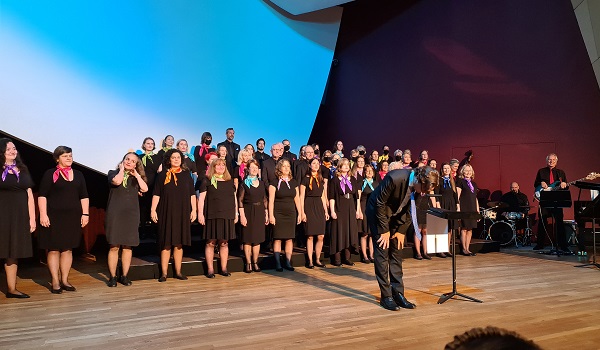 Credit: John Chalmers / Chronicle.lu
On Saturday 18 June 2022 at the Philharmonie Luxembourg, local choral group Voices International staged a joyful performance as part of their ongoing 25th anniversary celebrations under the theme of "Oh, what a beautiful morning!"
Directed by James Libbey, an almost capacity audience not only gained some cool, welcome respite from the weekend heatwave, but also had the opportunity to be taken on a musical journey by the 46-strong choir and four musicians. The journey started, appropriately, with the soaring, upbeat "Come Travel With Me", through the moody reflectiveness of "Don't be Seen" and the two numbers that the ensemble had recorded during lockdown "Blue Skies" and "No Time".
While every number was a work of art in its own right, other standouts in the first half of the show were an acapella version of the Spice Girls' "Wannabe" and Voices International's jazzy rendition of "Route 66" in the style of Manhattan Transfer.
After a short interval, the show continued with the theme song itself "Oh, What a Beautiful Mornin'" from the musical Oklahoma. This was the first performance that Voices International ever put on 25 years ago, and was thus a fitting homage to the last quarter century which was further enhanced by the special guest appearance of founding director Peggy Jenks who conducted the piece herself to rousing applause.
The second half continued by giving an opportunity to a number of the ensemble to put in solo vocal performances through numbers such as The Longest Johns' recent hit sea shanty "Wellerman", Santana's classic cha-cha-cha "Oye Como Va" in which many of the audience got up and danced along to the vibrant rhythms and was contrasted by the ethereal melody of Sting's "Fields of Gold" and the crescendo of "Baba Yetu". The final song featured Avicii's "Wake me Up", which was another crowd-pleaser, not least of which because nobody actually needed to be woken up!
Following a standing ovation a further three numbers were performed as encores: "Take me to the Water", and then reprises of "No Time" and "Ujedinite Se" (Stand United) sung in Arabic, Bosnian Hebrew and English "to celebrate and unite different cultures in our society".
All in all, it was a special evening from a special ensemble and well worth attending. All proceeds will go to children's charities. The choir is open to anyone, with no minimum requirement for prior musical training or experience. Anyone who is interested in contributing to the next 25 years of Voices International's journey, and could maybe even add to the 27 different nationalities that have so far made up the group, can get more information at www.voicesinternational.lu or by email: chairman@voicesinternational.lu.